Events
Cruz Cares Applications Due by Mar 12, Judges Announced for April 6 Event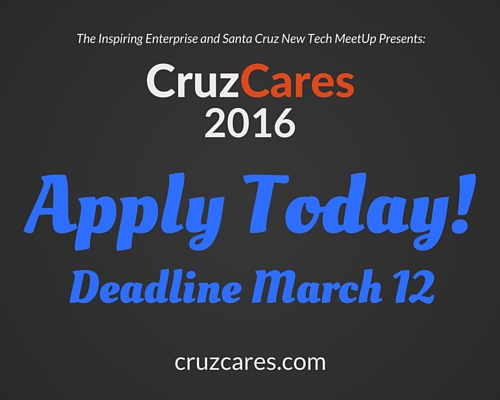 By Robert Singleton
Special to Santa Cruz Tech Beat
March 3, 2016 — Santa Cruz, CA
Cruz Cares: Pitch Contest for Social Change
April 6, 2016, 6-9pm
Del Mar Theatre, Santa Cruz
Apply to pitch. (Applications due by March 12, 11:59pm.)
Do you have an idea for a new business or non-profit that would help people or the environment? Do you have a plan that focuses on financial sustainability and scaling social impact? Maybe you already work at a mission-driven startup or early-stage non-profit and need more exposure? Cruz Cares: Pitch Contest for Social Ventures is a one-of-a-kind opportunity to hone your craft and reach a larger audience, all while working to support local social entrepreneurship.
Why Social Entrepreneurship?
We at The Inspiring Enterprise, believe in promoting change makers who are committed to designing new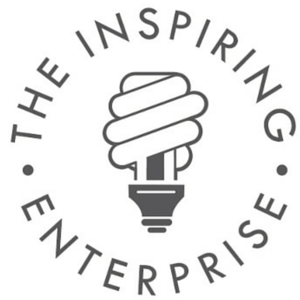 products and services capable of solving our most pressing social and environmental problems such as homelessness, sustainability, water management, and housing.
In addition to Cruz Cares, The Inspiring Enterprise offers a 12-week Accelerator Program that harnesses the power of the Lean Startup Methodology. The lean startup methodology is a process by which organizations test out their fundamental business assumptions in a market setting, forcing them to be accountable to what is working and what isn't. Said another way, we encourage would-be entrepreneurs to develop a core series of business hypotheses, which they then test through trial and error. If something isn't working? Try something else, and change your hypothesis until it does work. This saves time, money, and energy, and creates the most efficient organizations with the biggest potential for impact as possible.
Cruz Cares represents the first phase in this process: the idea phase. It's a chance to test your core concept in front of a live audience and panel of expert judges.
This year's judges include:
If you and your organization are one of the winners, you will have the opportunity to participate in The Inspiring Enterprise's Accelerator Program in Fall 2016.
This is the last week to apply for the 2nd Annual Cruz Cares for the chance to win cash and prizes towards starting your own social venture in Santa Cruz. Last year, 6 startups were given the opportunity to compete for over $20,000 in cash and prizes by pitching their new ideas for a social business or non-profit, all while presenting to over 200 people at the Del Mar Theatre. Winners received a cash prize, but were also featured prominently in local press coverage, received legal services, and were given a free video to further promote their ideas.
The top 6 companies and nonprofits will be chosen to pitch their brand new idea to a panel of entrepreneurs, investors, and donors at the April 6 event.
Cruz Cares is co-hosted by The Santa Cruz New Tech Meetup and The Inspiring Enterprise, a 501(c)(3) CA nonprofit that launches for-profit and nonprofit startups solving critical social and environmental issues in Santa Cruz County. Through an 12-week accelerator program, startups attend weekly classrooms, receive one-on-one consulting with industry experts, and receive a custom website and company video. The Inspiring Enterprise prioritizes applicants working to solve four key issues: homelessness, water management, sustainability, and housing.
Raffle prizes include an Inboard!
###
Tagged Cruz Cares