Companies
Applications Open for Cruz Cares Pitch Contest for Social Ventures

By Janneke Lang
The Inspiring Enterprise
January 20, 2016 — Santa Cruz, CA
NOTE (2/4/16): This event date has changed to April 6.
Second annual Cruz Cares "Social Startup" Competition seeks applicants
The Inspiring Enterprise opened applications today for our 2nd annual Cruz Cares: Pitch Contest for Social Ventures. The 2nd Annual Cruz Cares pitch competition will be held on Wednesday, March 2nd, 2016 from 6-9pm, at Del Mar Theatre.
Cruz Cares is a pitch contest for nonprofit and for profit startups focused on solving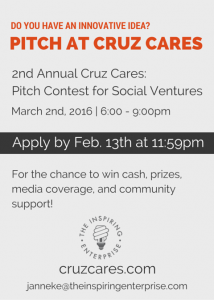 a social or environmental issue. Six contestants will pitch their innovative solution to a panel of judges comprised of venture capitalists, angel investors, and non-profit professionals for the chance to win cash and prizes, media coverage, and community support.
Eligible startups include ventures less than 3 years old, nonprofit or for-profit status, must have a new and original idea, must target a social or environmental regional issue and be able to demonstrate its potential for positive impact, must reside in or be relocating to Santa Cruz, and must have completed research and developed concrete planning prior to submissions.
Apply to participate in Cruz Cares by February 13, 2016 at 11:59 PM PST. Six semi-finalists will be selected and announced on February 23. Semi-finalists will attend a pitch practice session during the week of February 24 – 29. Selected semi-finalists will pitch their ideas to a panel of judges on Wednesday, March 2, 2016 from 6:00-9:00 PM. Semi-finalists will have 10 minutes to pitch their ideas with a slide deck to a panel of judges. Following the 10-minute pitches, judges will ask follow-up questions, then deliberate and announce the top three winners in front of the live audience. To apply to Cruz Cares visit www.cruzcares.com.
At last year's first Cruz Cares pitch competition, over 40 applicants applied for 6 available spots to pitch their innovative startup idea. Contestants included Carmel Jud, Rising International; Sibley Simon, New Way Homes; David Foster, Habitat for Humanity Santa Cruz County; Manu Koenig, Civinomics; Chad Mulder, Ruly; and David Bernick, Biofuel. In front of a 200 person audience, over $20,000 in cash and prizes were distributed to the top three contestants. Judges of last year's pitch competition were Bud Colligan, Monterey Bay Economic Partnership, Mark Mitchell, Sand Hill Angels, Keri Waters, Calliope, Christina Cuevas, Community Foundation Santa Cruz County, and Karen Hargrove.
To attend Cruz Cares on March 2, RSVP at www.meetup.com/santacruznewtech.
For more information, to apply, and to sign-up for updates and news, visit www.cruzcares.com.
Questions? Contact Janneke Lang at janneke@theinspiringenterprise.com
###
Tagged Cruz Cares, The Inspiring Enterprise