Companies
Taylor Farms Investment in Clean Energy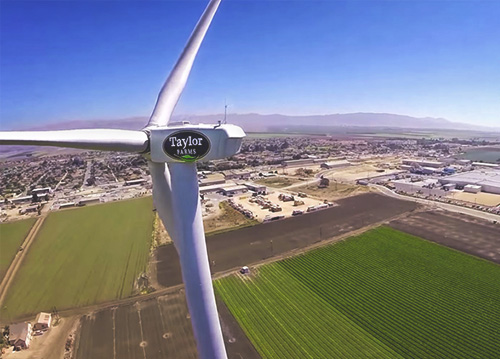 (Source: Taylor Farms)
February 25, 2016 — Salinas, CA
Taylor Farms Investment in Clean Energy Mirrors Commitment to Safe, High Quality Produce
Just this week, California Gov. Jerry Brown joined a group of 17 governors from both parties in signing the "Governors' Accord for a New Energy Future," a commitment to working together on clean energy advancements to protect natural resources and improve air quality.
Taylor Farms is committed to using clean, reliable, affordable and sustainable energy to help power our food processing facilities because we know that one bag of salad won't change the world, but how we make it might. Our commitment to a healthier environment goes hand in hand with our mission to make healthy fresh foods for our consumers.
We're proud to produce healthy foods powered by renewable energy.
We invest in sustainable energy from the sun and wind and have installed fuel cells to generate cleaner electricity. These accomplishments, in addition to future sustainability projects, will help to reduce our greenhouse gas emissions and provide certainty about our energy costs.
Our retail processing facility in Salinas has 2,200 solar panels installed on the roof which generate 675 kilowatts of emission-free, environmentally beneficial electricity. We are proud of this and have been recognized by the White House as a national leader in sustainable energy.
Continue reading article here: http://www.taylorfarms.com/news/taylor-farms-investment-in-clean-energy/
###
Tagged Taylor Farms