Companies
Come celebrate IDE's 30 years of product development in Santa Cruz County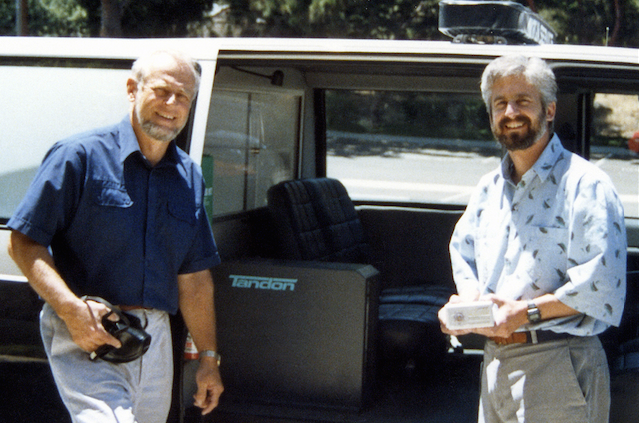 By Thomas Illick
IDE, Director, Marketing and Sales
February 21, 2016 – Scotts Valley, CA
(Photo above: IDE's founders, Petr Sehnal, left, and Dave Moriconi in front of a prototype Tandon mobile computer with removable Data Pac memory, designed in 1987 for the Morgan Hill Police department. The first of its kind, this system allowed police officers immediate access to a suspect's detailed information on the road. Contributed.)
[Editor's note: Santa Cruz Tech Beat published The 30 Year Old Company You've Never Heard Of, 12/10/15.]
The local tech community is invited to come celebrate IDE's 30th anniversary at the newly-opened East Cliff Brewing Company on Wednesday, March 9, 2016, from 6 to 9pm. Past, current, and future clients are welcome, and anybody simply interested in learning more about IDE and celebrating with us.
Who is IDE?
Quite possibly the longest-lasting design consultancy in Santa Cruz County, IDE is a key local resource for product development involving industrial design, mechanical engineering, prototyping, and production electrical systems development. IDE has decades of experience developing emerging technologies into manufactured products, and specializes in strategic design for manufacturing.
We are just as comfortable designing the newest addition to a multinational company's product line as we are taking your breakthrough startup concept and efficiently developing it into a manufacturable and profitable product. We love dynamic startups, and we love interesting projects that give our team a chance to excel at what they do best: exceptional product development.
Early history
Our founders, David Moriconi and the late Petr Sehnal, came from industrial design and engineering backgrounds, thus the name IDE. IDE launched in 1985 while the personal computer industry was exploding. Business was great, the work was very well received, and the team quickly grew. IDE was soon designing calculators, workstations, telephones, and laptop computers for companies such as Silicon Graphics, Teledex, and Compaq. IDE moved naturally into the booming consumer electronics space, designing several products for Palm Corporation, Plantronics, and the Nomad Jukebox for Creative Labs.
Local and notable projects
As IDE's work gained acclaim and our team grew in capabilities, we began tackling more projects dealing with emerging technologies such as head-wearable micro-displays, 3D stereoscopic glasses, laser projection keyboards, and biometric ID scanners. These were products that hadn't existed before, thus requiring IDE to establish new design standards. This opened the door to the biotech and life sciences industries, which currently make up the bulk of IDE's workload.
IDE has worked with several local companies such as Plantronics, Ibis, Kestrel, Fullpower, Creative Labs, E-mu, Seagate, Modarri, and more. A few notable bike projects include the development of the Ibis Mojo, Mojo HD, and Tranny mountain bikes, and the design of several breakthrough Kestrel frames such as the Talon, KM40, Edge, Airfoil Pro, and RT700. Most recently, we developed an extremely advanced environmental control system in the Fluidigm Callisto, an instrument used for DNA imaging, DNA sequencing, and in vitro cell culture. IDE currently has several top-secret projects under development for some outstanding clients, aimed at saving lives and making the world a better place.
East Cliff Brewing Company
We look forward to see you on March 9 at The East Cliff Brewing Company, the newest brewery and tap room in Santa Cruz County. They serve genuine British beer brewed with genuine British techniques. Come sample their beer, and help us celebrate IDE's history as a staple in the local tech scene, as we look forward to our next chapter.
###
If you wish to republish this article, please follow our Terms of Use.
###
Tagged IDE