Companies
The 30 Year Old Company You've Never Heard Of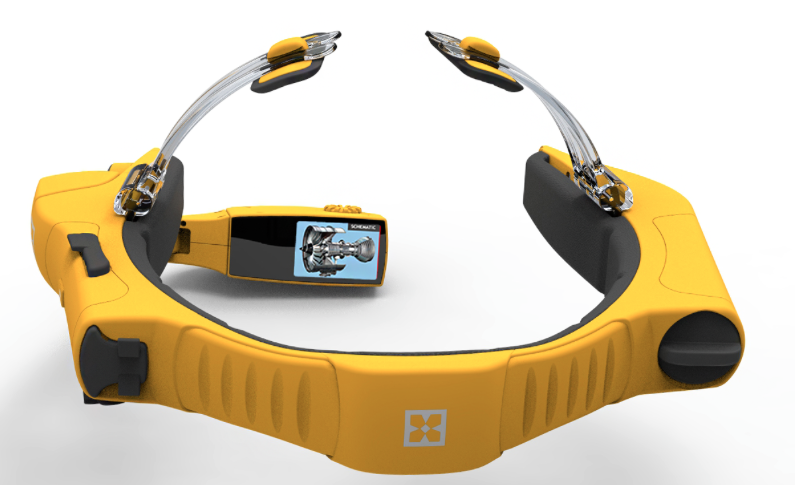 By Sara Isenberg
Founder, Publisher, Editor-in-Chief, Santa Cruz Tech Beat
December 10, 2015 — Scotts Valley, CA
(Photo above: The Kopin Golden-i 3.8M is a ruggedized computer that you wear on your head. Source: IDE)
I'd never heard of IDE Incorporated in Scotts Valley until my 19 year old neighbor, an industrial design student at

Dartmouth, home for vacation, asked me if I knew anything about internships there. After a visit to their website, my radar went up. Not long after that, I met Thomas Illick, IDE's Director of Marketing and Sales at Santa Cruz New Tech Meetup. Illick is responsible for maintaining current client relationships, introducing new clients to IDE, and collaborating with companies that need help developing their great idea into a product that's ready for manufacturing.
In anticipate of IDE's 30 year anniversary, Illick gave me the scoop on IDE in this Q&A.
SCTB: Why haven't most people heard of IDE?

TI: Most people never hear about us, even when we work for high profile clients, because we stay behind the scenes once the product is released, and are rarely mentioned to the public.
SCTB: What does IDE do?
TI: IDE specializes in developing great ideas into beautifully manufactured products. We've worked with countless companies, transforming their emerging technologies into real world products. We have an industrial design studio, engineering labs, and a machine shop complete with CNC machines and 3D printers, making us the ideal partner when technology is applied to physical products. We can take a product idea from concept through all the development stages and ready for mass manufacturing. Our team has designed thousands of products, and knows what it takes to design and develop a truly successful product.
SCTB: What kinds of projects has IDE designed?
TI: Medical devices, consumer electronics, carbon fiber bicycles, children's toys, countless wearables and handheld products, airline telephones…. You name it, we've probably worked on one! We designed Samsung's first cell phone, and their first Windows based tablet in 1989. IDE was involved in the world's first 3D gaming glasses back in 1994. We designed the world's first commercial product powered by a micro fuel cell, a breakthrough fork design for RockShox, and more recently a digital microscope used for embryo selection during in vitro fertilization.
SCTB: Who started the company?
TI: David Moriconi and Dr. Petr Sehnal founded the company in 1985. Petr passed away in 1995, and Dave continued to build IDE, shifting our core offerings to match market demands. For example, we were heavily involved in consumer electronics throughout the 90's, then moved more into the bio-tech and life sciences space in the early 2000's.
SCTB: How many people work at IDE?
TI: Our business fluctuates greatly with the development cycles of our clients, so this number changes periodically. We currently have 14 full time employees, and a large pool of consultants who are regularly called in as necessary per project. Our team is mostly comprised of mechanical engineers, industrial designers, and electrical systems engineers. Our consultants include optics experts, acoustics engineers, transportation designers, software developers, illustrators, technical writers, and more.
SCTB: Who are your typical clients?
TI: Our team has the ability to act as an extension of nearly anyone's team. We are also perfectly capable of acting as an independent team, making us an excellent skunkworks resource for larger companies who want to explore a new direction without hiring a whole new team. Because of this, we've worked with everyone from personal electronics giants like Compaq and Philips, to tiny Silicon Valley startups, to massive Bio-tech and pharmaceutical companies.
SCTB: Any local companies?
TI: We've loved working with local companies, such as Plantronics, Bell, Seagate, Fullpower, Ibis, Kestrel, Anritsu, Modarri, Warmboard, and many more. Several years ago, we even designed the logo for 99 Bottles in downtown Santa Cruz!
SCTB: What is IDE's big milestone event coming up soon?
TI: We're celebrating our 30th anniversary in early 2016 with a party at East Cliff Brewing Company. The party will be open to anyone in the Santa Cruz tech and design communities. Free beer while supplies last, so get there early! Look for details in Santa Cruz Tech Beat.
###
If you wish to republish this article, please follow our Terms of Use.
###
Tagged IDE