Companies
Numerous Shutting Down on May 1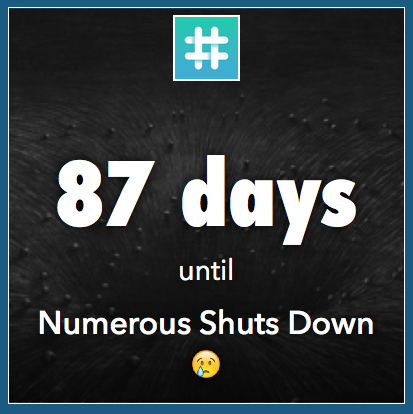 By Sara Isenberg
Founder, Publisher, Editor-in-Chief, Santa Cruz
February 4, 2016 — Santa Cruz, CA
Santa Cruz Tech Beat has published a variety of articles about Numerous over the last two years, including an early one by Numerous co-founder John Scalo about his decision to stop commuting over Highway 17 and start collaborating with his friend, Charlie Wood, on a then-new app, Numerous.
Unfortunately, Numerous CEO Wood, has just announced that the startup will be shutting down.
Darn, I really thought they were "ones to watch." The App has been featured many times by Apple.
As reported by Wood, despite best efforts, the company has been unable to find a source of funding to continue operating, and will be shutting down on May 1.
Here's the announcement:
Today I have some bad news. Despite our best efforts, we've been unable to find a source of funding that will allow us to continue to operate Numerous. The service will be shutting down on May 1.

Colin, John, and I want to express our sincere appreciation for the support our more than 150,000 registered users and our valued partners have shown us. We believe we've created something with the potential to be profoundly important. We've been featured multiple times by Apple and have built a loyal following. That said, we have ultimately failed to put together the right combination of product, market, and message.

We're of course extremely disappointed, but are at the same time proud of what we've built and what has been built on top of it. We know that thousands of users around the world—including the three of us!—will miss having Numerous available. Ultimately though we were unable to build a large enough user base to become self-sustaining.

Over the coming weeks we'll be posting some additional thoughts about what we and our platform partners have built. In the mean time, let me just say thank you.

If you have any questions, please let us know.

Best regards, Charlie
Read original post here: http://blog.numerousapp.com/2016/02/02/numerous-shutting-down-on-may-1.html
###
Tagged Numerous