Events
Talkin' tech and other stuff on KSCO Radio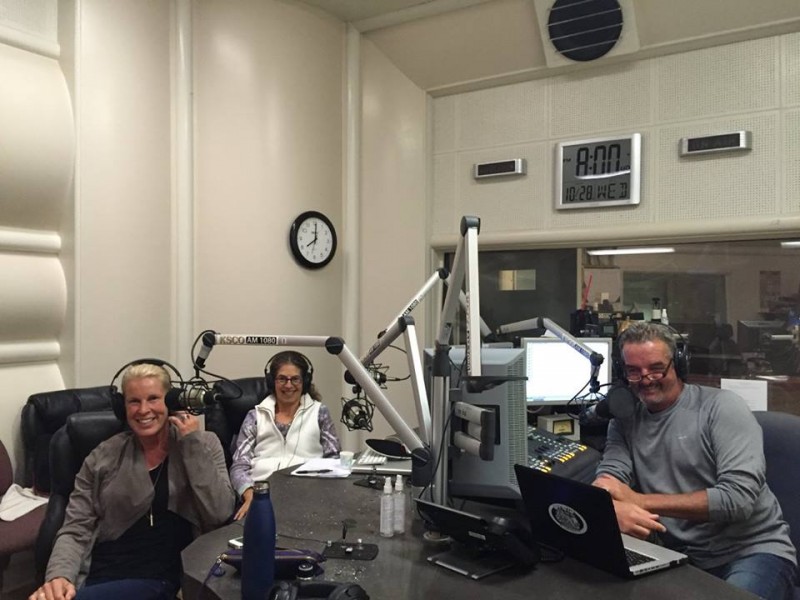 By Sara Isenberg
Founder, Publisher, Editor-in-Chief, Santa Cruz Tech Beat
(Photo above: Hilary Bryant, Sara Isenberg, and Neil Perlberg, relax after an hour of fun — and local tech — in the KSCO studio on Hour Local Show with Neil Pearlberg, October 28, 2015.)
October 29, 2015 — Santa Cruz, CA
I had a few days notice but said "yes" quickly when Hilary Bryant, former mayor of Santa Cruz and new CMO at Calliope Waterworks, asked me to join her on KSCO's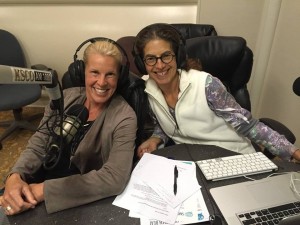 Hour Local Show with Neil Pearlberg last night. Hilary's an old pro on this show. I'm a newbie. In fact, I've only been to the KSCO studio for Think Local First's Holiday Mixers.
What did we talk about? Santa Cruz Tech Beat (duh!), Calliope Waterworks (duh!), genomics/biotech, ag tech, gaming, NextSpace, Cruzio, UC Santa Cruz, Cabrillo College, angels, Chamber of Commerce's CLV in 2013, Santa Cruz Works, Digital NEST, jobs, the work-in-progess Monterey Bay Internship Portal (a joint partnership between Community Foundation of Santa Cruz County, Santa Cruz County Business Council, Cabrillo College, UC Santa Cruz, and Monterey Bay Economic Partnership), and even touched on "the old days" vs the current era of Santa Cruz tech. Plus Hilary's surfing, Neil's son's birthday, and more.
(Times are approximate)
01:25: Show starts
18:00: NextSpace and Cruzio
19:20 Genomics/Biotech
20:50 Silicon Valley vs Santa Cruz, keep it local, avoid 17
23:00 Intro Calliope Waterworks
33:35 Angels
37:00 Angels
42:00 Santa Cruz Works
42:25 Digital NEST
43:00 Monterey Bay Internship Portal
It's long — the kind of podcast I would typically save for the treadmill — so no offense taken if you don't want to listen to our banter.
Will there be another time? Dunno. Stay tuned…
###
If you wish to republish this article, please follow our Terms of Use.
###
Tagged Calliope Waterworks, KSCO radio