Companies
Picture This: An App for Blind Photographers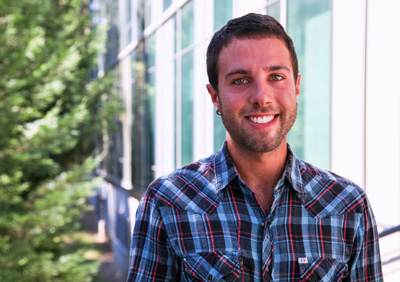 By Peggy Townsend
UC Santa Cruz
(Photo above: UC Santa Cruz grad student Dustin Adams's app allows someone who is visually impaired to not only recognize their photos but also to organize them and even share their shots through social media. Credit: Carolyn Lagattuta)
October 8, 2015 — Santa Cruz, CA
Grad student Dustin Adams, who works in UC Santa Cruz's Interactive Systems for Individuals with Special Needs lab, designed tool to recognize and describe photos
Dustin Adams listened as one of his colleagues narrated photos of her trip to Venice, Italy.
What was remarkable was not the descriptions of the canal rides or beautiful churches, but rather that Adams's colleague was blind and was using a mobile app the 28-year-old UC Santa Cruz grad student had designed to recognize and describe the vacation shots she had taken.
The app, which has already won two prestigious design awards, allows someone who is visually impaired to not only recognize their photos but also to organize them and even share their shots through social media.
It's a technological accomplishment that may seem counterintuitive on its face — until, as Adams explains, not only are there are a number of famous photographers who are visually impaired but also that a Flickr group set up for blind photographers has 386 members and nearly 10,000 photos.
Continue reading article here: http://news.ucsc.edu/2015/09/adams-dustin.html
###
Tagged UC Santa Cruz