Events
Students Pitch at UCSC Business Design Showcase on May 30, 2015

(contributed)
May 7, 2015 — Santa Cruz, CA and Santa Clara, CA
Student teams from UCSC will pitch their business concepts to Silicon Valley and Santa Cruz business leaders, entrepreneurs, faculty, alumni, and family.
What: UCSC's Center for Entrepreneurship's (C4E) 3rd Annual Business Design Showcase
When: Saturday, May 30, 2015, 1-4pm
Where: UCSC Silicon Valley Center, 2505 Augustine Drive, Santa Clara, CA
Keynote Speaker: Brandon Allgood (PhD 2005), CTO at Numerate, Inc.
Register here. $15 for 1-2 attendees.
Register by May 22, 2015
More information: https://events.ucsc.edu/event/3078
Entrepreneurship drives much of today's economy, especially in the San Francisco Bay Area. To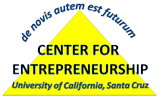 foster that development, C4E at UCSC has developed the Entrepreneurship Studies program. Over two quarters, students develop and evaluate business concepts, prototypes, business plans, pricing models, customer requirements, distribution, manufacturing, and markets as they build and refine their own start-ups.
The "final" is a business plan presentation and Q & A, judged by business leaders and entrepreneurs for prize money.
Prizes total $9K plus $1K People's Choice Award
1st place: $4,000

2nd place: $3,000


3rd place:

$2,000
Winning teams will be announced at the showcase, and all teams can compete for the $1,000 People's Choice Award.
Dr. Brandon Allgood (UCSC PhD Computational Physics 2005), CTO at Numerate, Inc., will deliver the keynote address. Dr. Allgood currently manages the software engineering team and is responsible for the development of Numerate's technology platform. He has authored scientific publications in astrophysics, solid-state physics, and computational biology and brings an in-depth understanding of all aspects of building a start-up, including technology, fund raising, business model development, sales, marketing, negotiations, and government relations.
Event organizers include:
Brent Haddad, Director, UCSC Center for Entrepreneurship
John Skardon, UCSC Entrepreneurship Lecturer in Technology Management
Attendance is open to all and brings together business leaders, entrepreneurs, UCSC leadership, alumni, students and more from around the Bay Area to recognize and encourage student entrepreneurship. Light refreshments served.
###
Tagged UC Santa Cruz