Featured
Treehouse Childhood Cancer Initiative receives $2.5M grant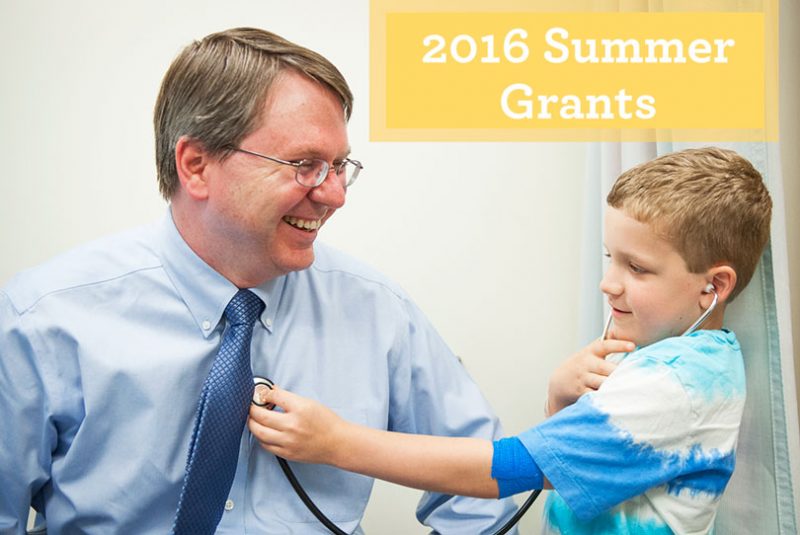 (Contributed)
July 21, 2016 — Santa Cruz, CA
UCSC precision medicine project aims to double the number of childhood cancer patients benefitting from genomic analysis with $2.5M grant from St. Baldrick's Foundation
The UC Santa Cruz Genomics Institute has received a $2.5 million grant over the next five years from St. Baldrick's Foundation, the largest private funder of childhood cancer research grants. The grant supports the Treehouse Childhood Cancer Initiative, which brings the power of genomics and big-data analytics to bear on the challenge of finding effective treatments for children with cancer.
Genomic analysis of tumor cells can reveal the genetic errors driving an individual patient's cancer, and doctors can use that information to design targeted therapies. To realize the full potential of cancer genomics, however, the information from an individual patient must be compared against data from a large number of other cases. This is problematic for childhood cancers, which are relatively rare, making it difficult to assemble large cohorts to study.
The Treehouse Initiative was established to enable the sharing of pediatric cancer data so that each patient's data can be analyzed in the context of large datasets of both pediatric and adult cancers.
"Genomic medicine requires massive data sharing and analysis, and that is the emphasis of the Treehouse Initiative," said David Haussler, professor of biomolecular engineering and scientific director of the Genomics Institute at UC Santa Cruz. "It is only by sharing data that we can deploy genomic insights to their full potential in pediatric cancer and other diseases."
 
With the new funding from St. Baldrick's, UC Santa Cruz will work with six clinical partners that have agreed to share and jointly analyze data from pediatric patients enrolled in genomic medicine clinical trials: Children's Hospital of Orange County; Stanford University; Pacific Pediatric NeuroOncology Consortium; the Pediatric Personalized Oncogenomics Program of British Columbia; Peds Mi-OncoSeq Program at the University of Michigan Cancer Center; and Molecular Guided Therapy in Neuroblastoma at Children's Hospital of Philadelphia.
The Treehouse Initiative will perform a massive comparison of each child's cancer data and cross-reference it with more than 10,000 tumors from previous genomics projects. This huge comparison, known as pan-cancer analysis, uses big data to reveal how genomic aberrations drive cancer. The Treehouse Initiative's comparative approach enables researchers to find hidden causes of cancer in individual patients, including targetable drivers of the cancer that may be missed when analyzing each patient's data in isolation. This approach can suggest new precision treatments for patients whose cancer has not responded to standard therapies.
Through this new effort over the next five years funded by St. Baldrick's, the Treehouse Childhood Cancer Initiative will aim to at least double the number of pediatric patients whose cancers are treated based on insights derived from genomic sequencing. The UC Santa Cruz Genomics Institute has long been a leader in open-source, big-data genomics, and the Treehouse Initiative is bringing a new level of real-time data sharing and analysis to pediatric cancer genomics.
A Treehouse pilot project, the California Kids Cancer Comparison Initiative, has already shown that this approach can benefit children with cancer. "Our analysis has revealed new therapeutic options for patients being treated in the clinic today. By looking at each child in the context of tens of thousands of other cases, we are demonstrating the clinical utility of data sharing and cross-tumor comparisons," said Treehouse cofounder Olena Morozova, a research scientist at the Genomics Institute.
By sharing data, the Treehouse Initiative allows each patient to immediately benefit from what is learned in other cases. Families are eager to participate, Haussler said. Pediatric cancer is a struggle for every family it touches, and the Treehouse Initiative will work to turn these struggles into meaningful clinical insights that will help everyone faced with childhood cancer.
Haussler is principal investigator for the St. Baldrick's grant, and Sofie Salama, a research biologist at the Genomics Institute, is co-principal investigator.
About St. Baldrick's Foundation
As the largest private funder of childhood cancer research grants, the St. Baldrick's Foundation believes that kids are special and deserve to be treated that way. St. Baldrick's funds are granted to some of the most brilliant childhood cancer research experts who are working to find cures and better treatments for all childhood cancers. Kids need treatments as unique as they are – and that starts with funding research just for them. Join us at StBaldricks.org to help support the best cancer treatments for kids.
About the UC Santa Cruz Genomics Institute
The UC Santa Cruz Genomics Institute is dedicated to unlocking the world's genomic information to drive targeted treatment of diseases. Its goals are to accelerate the power of the global research community to solve today's intractable health problems; lead the national and international effort to break down institutional silos where genomic information is now isolated; enable the secure sharing and analysis of genomic data on a global open-source federated network; and tackle head on the most fundamental societal questions evoked by the advent of a universal genomics technology.
###
Tagged Genomics Institute, UC Santa Cruz