Companies
Prepped for Launch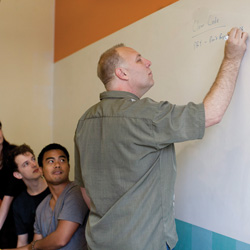 By Cat Johnson
Good Times
(Photo above: Chris Miller, far right, started an internship program to create the kind of tech talent in Santa Cruz he wanted to see. Credit: Keana Parker)
March 20, 2015 — Santa Cruz, CA
Internship ecosystem primes new local tech talent
Several days a week, Gregory Ruffin goes downtown to NextSpace, where he sits next to his mentor, Gabriel Kopito, a web developer at local web company Launch Brigade, which specializes in building websites. Under Kopito's supervision, Ruffin is creating an online automatic billing system. A participant in Launch Brigade's internship program, the 22-year-old computer science student from Atlanta is learning firsthand how real-world web development works.
"I know coding and programming from school, but I don't have a practical use for it," says Ruffin, a Cabrillo College student. "If you asked me to do something, I don't know if I could go out and make that project."
Launch Brigade's goal for its internship program is to bridge the gap between what computer science students learn in school and the practical skills they need to work in the industry.
Launch Brigade and its sister company, Scratch Space, set interns up working on website design or development projects for nonprofits and community organizations. At the end of the 120-hour unpaid internship, if the intern works well with the team and there is enough work to employ them, Launch Brigade brings them on.
Chris Miller, president and CEO of Scratch Space and Launch Brigade, sees it as a win for everyone involved: community organizations get web products, the intern gets trained on real-world projects, and the company gets to know the intern—watching him or her closely to see if they're a good fit for the team. If they are, they've already been pre-trained in how to work at the company. Miller says the interns who don't ultimately join the Launch Brigade team leave with practical skills and a better understanding of the industry that will serve them elsewhere.
Over 30 interns have gone through Launch Brigade's internship program.
Continue reading article here: http://www.gtweekly.com/index.php/santa-cruz-news/santa-cruz-local-news/6390-prepped-for-launch.html
Tagged Internships, Launch Brigade