Companies
15 for '15 from Scott Design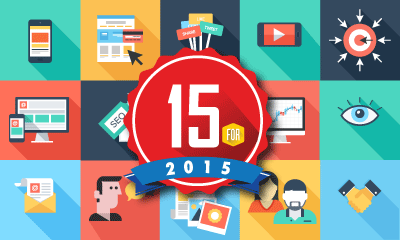 By Matt Scott
Scott Design
Clients often ask us where we think they should focus their marketing efforts to make sure they are hitting all the right targets. Here are 15 key things we think you should consider for 2015. They represent our top five recommendations each for digital marketing, marketing communications, and branding strategy.
Digital Marketing
Fine-tune your website, emails, and landing pages to reach your target audiences.
1. Go all in on mobile.
It's now a no-brainer and absolutely essential. With mobile use of websites and email increasing rapidly, and purchases of tablets and smartphones surpassing those of desktops and laptops, your designing responsive websites and emails is a must. Don't make mobile users struggle to view and engage with your content. Google even recently added a "Mobile friendly" designation to mobile search results, making it more important than ever to make your digital marketing mobile-ready.
2. Use responsive design — for emails, too.
For ease of website updating and for optimizing engagement of all users, responsive email design is the way to go. Regardless of the viewing screen size — desktop, laptop, tablet, phablet, and smartphone — the same content is presented to each user, and optimized for that size. 65% of emails today are read on mobile devices, so the time to optimize for mobile is now. It takes a bit of coding and testing, but emails can and should be responsive, too.
3. Keep well-crafted emails in the mix.
Since, according to recent surveys, email still ranks highest in terms of ROI, it makes sense to make email marketing one of your key channels. However, make sure you deliver content and an offer that resonates with the specific, segmented audience. Optimize for mobile, make sure your CTA is crystal clear, and use an effective and truthful subject line. And test and track slightly different versions to improve your ROI on future campaigns.
4. Make sure landing pages are optimized.
You might have great content — white papers, webinars, and infographics — but prospects may abandon the registration process once they get to the landing page. Keep content streamlined, but include strong reasons to register. Allow the preview of some content. Registration should be simple, sacrificing collecting some info to reduce abandonment rates. And, of course, optimize the page for mobile to make your landing pages successful.
5. Don't neglect SEO.
Google rewards your site with high rankings if it is relevant, fast, thorough, and fresh. Post valuable, unique, click-worthy content on an ongoing basis. Do a content audit of your website and determine whether your keywords still correspond with search words currently used by your target audiences. And, make sure your site is mobile optimized, since Google gives search preference to mobile-friendly sites.
Marketing Communications
Create strong content, engaging stories, and rich conversations with your customers.
6. Hold authentic, human conversations
Remember "perfect information" from Econ 1? It's the idea that everyone in the market has access to all the relevant information they need to make a decision. Well, it's now a reality: Customers use search engines and social media sites to find everything they need to know about your company. Develop a social media plan for creating valuable content and communicating directly with customers. Post relevant content, eliminate marketing jargon in your writing, and be ready to answer questions that are posted — quickly and transparently.
To continue reading full article, go to: https://www.hotdesign.com/marketing/15-for-15/
###
Tagged Scott Design