Events
HuffPo: A Clash of Codes at Hack UCSC 2015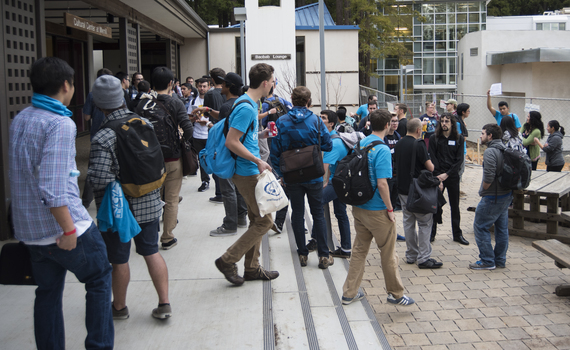 By Dieter Holger
HuffPost Campus Editor-At-Large
(Photo credit: Dieter Holger)
The staffers at the registration desk of HACK UCSC 2015 looked frantic. A line of hopeful students stretched out at least one hundred feet. The draw of $80,000 in prizes probably helped in selling every single $20 ticket of the 350 available. Hack UCSC 2015's turnout blew expectations — especially considering it was only the second incarnation of the competition. Known technological innovators, like Plantronics, waited inside an auditorium that would morph into a bumper-car ride of techies. A 'geeky' programmer filled every corner — but now-a-days being labeled a programmer is a badge of honor.
Diversity stats by t-shirts
This year there was an organized push to bring more diversity to the hackathon. Partly because the previous year had less than 10 female participants — fortunately this year had over 80. "We have women t-shirts," HACK UCSC organizer Mark Adams told me "It's a minor detail but a thing that a lot of hackathon's just don't do." Unfortunately the sign up process did not ask for the participant's gender to generate a statistic.
Adams — a founder of HACK UCSC (and former UCSC student) — took the stage to share the ground rules. Teams were to be no larger than five, pre-written code has to be open-source and "you have to use GitHub." Adams assured me that the "Github repo lets us see if you use pre-written code." Students had three categories to design for: 'Innovation' (newer concepts), 'AgTech' (agricultural technology), and 'TechCares' (a product with a positive social impact). Sleeping bags were welcome, after all this hackathon was an "overnighter."
Continue reading article here: http://www.huffingtonpost.com/dieter-holger/a-clash-of-coders-hack-uc_b_6453750.html
Tagged UCSC Hackathon