Events
UC Santa Cruz hosts expanded hackathon Jan 9 – 11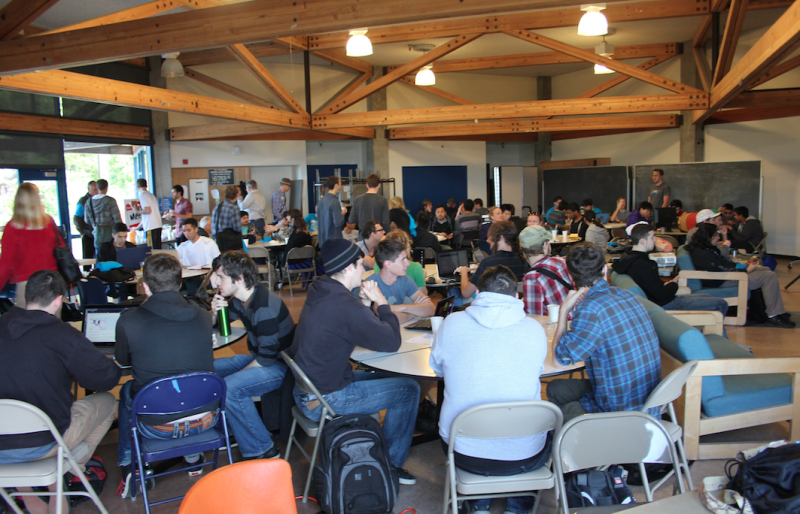 by Tim Stevens
UC Santa Cruz
HACK UCSC 2015 is open to students throughout the Monterey Bay region
Themes are technology, environmental stewardship, and social justice
The second UC Santa Cruz hackathon will take place January 9 to 11 at the Crown Merrill Cultural Center, bringing together programmers, designers, and tech enthusiasts from throughout the Monterey Bay region. Ten finalist teams will present to the larger community at an invitation-only awards dinner on Sunday, January 11, at which judges will award more than $80,000 in cash and prizes.
A hackathon is a coding marathon in which teams comprised of developers, designers, and entrepreneurs work together to create apps and programs. The themes for the HACK UCSC 2015 event are technology, environmental stewardship, and social justice.
Speakers at the event will include Lila Tretikov, executive director of the Wikimedia Foundation; Scott Brandt, vice chancellor for research at UC Santa Cruz; and Bud Colligan, founder and CEO of South Swell Ventures. Award categories are Innovation, AgTech, and Tech Cares. The Community Foundation of Santa Cruz County is sponsoring the Tech Cares award, with a $4,000 gift to be awarded for projects that focus on benefiting non-profit organizations and causes.
Brent Haddad, director of the Center for Entrepreneurship at UC Santa Cruz and one of the organizers of the event, said it is a great opportunity for students to hone their skills and connect with leaders of the local tech industry. In honor of the 50th anniversary of UC Santa Cruz in 2015, special prizes will be awarded to projects that focus on genomics, coastal sustainability, social justice, gaming, data science, and linking arts and sciences.
"Our campus is 50 years young and providing ideas and energy to the regional economy," Haddad said.
Following the success of the inaugural UCSC hackathon in April 2014, HACK UCSC 2015 has set its sights even higher this year. The event has been expanded to include non-students as well as students from schools around the Monterey Bay crescent, including UC Santa Cruz, Cal State Monterey Bay (CSUMB), Cabrillo College, and local high schools.
"We were very pleased with the inaugural event last year," said co-organizer Doug Erickson, a UCSC alumnus and founder of the Santa Cruz New Tech MeetUp. "When we surveyed the participants 2 weeks after the hackathon, we learned that over 50 percent had been made job offers."
Co-organizer Mark Adams, program manager at Santa Cruz Works, was a senior in business management economics at UCSC and student coordinator at the Center for Entrepreneurship when he helped organize the April Hackathon. "It's events like the hackathon that contribute to a vibrant tech scene," Adams said. "Students discover that there is a local ecosystem that will support their efforts long past the hackathon."
Technology sponsors including Plantronics, Driscoll's, Rackspace, Tessel, and others have contributed more than $80,000 in prizes and services for the hackathon. A complete list of sponsors is available on the HACK UCSC 2015 web site at hackucsc.com. Visit the web site to learn more, register, or to become a sponsor. Seats are limited.
###
Tagged Hack UCSC, UC Santa Cruz