Companies
Full house at Santa Cruz Tech Meetup, local tech on the rise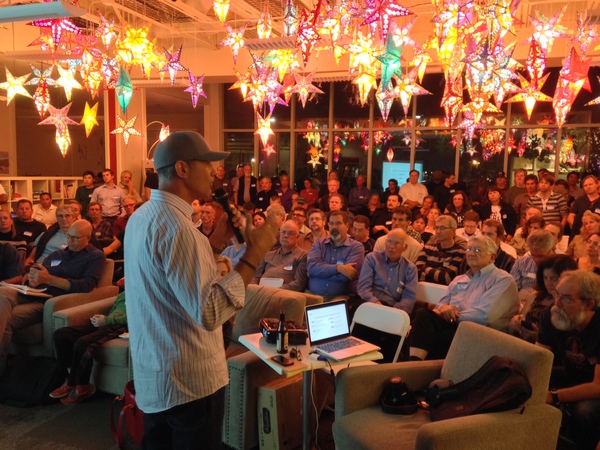 By Jondi Gumz
Santa Cruz Sentinel
London firm, VivoInspire, relocating HQ to Santa Cruz
VivoInspire.com, a company of 50 employees that developed technology to help students build good habits, acquired Santa Cruz startup Arqetype, moved its headquarters from London to Santa Cruz and signed a lease for the Westside with plans to add 20 jobs in the next year.
Santa Cruz startup PredPol, with software to help police departments visualize where crimes such as pedestrian homicide will happen, is moving into bigger space at the Wrigley Building on the Westside and expects to grow from 35 to 50 employees.
Tuul, a startup aiming to optimize customer service for those on the go, has 15 employees downtown and needs at least seven to eight more engineers.
Magic Leap, a Florida startup with "wizards" working in six locations including Santa Cruz, got $542 million in financing led by Google two weeks ago to develop the next generation of mobile computing, augmented reality and virtual reality; Magic Leap provided few details so the Santa Cruz impact remains to be seen.
That's some of the news from Wednesday night's Santa Cruz New Tech MeetUp, which brought a standing room crowd of 270 to Cruzio Internet.
The 8-year-old tech meetup has grown to 1,900 members, making it the eighth largest, according to MeetUp organizer Doug Erickson.
The Dec. 3 MeetUp will be at the Del Mar Theatre, featuring eye-catching photos from Santa Cruz Waves and author-blogger Nir Eyal talking about how to build habit-forming products.
Attendees heard about Moxtra, a new mobile collaboration tool developed in Cupertino down the road from Apple. It's free to individuals; businesses pay for the service.
"I'm a big fan of Santa Cruz — there's good talent here," said Moxtra presenter Mani Kadir, who worked with Erickson at online conferencing company WebEx before Cisco bought it for $3.2 billion.
Former Intel product manager Barry Solomon, now with startup Eggcyte, came from San Mateo to present a prototype of "The Egg," a security solution with 128 gigabytes of storage for anyone worried about trackers and hackers. Projected price: $299. Eggcyte plans to launch a Kickstarter campaign Nov. 18.
J. Guevara, city of Santa Cruz economic development manager, unveiled CruzCal.org, a free online community calendar to help arts and cultural organizations minimize conflicts when scheduling events.
"For this to work, we all need to post to it and pull from it," Guevara said.
Santa Cruz digital agency Modern Tribe created the calendar using the open source software Calagator, a tip from Santa Cruz Tech Beat founder Sara Isenberg. Cruzio donated the server, with the brand and color scheme from design agency Design by Cosmic, which moved downtown in September.
When investor Glenn Stearns invited everyone to the Global California Conference Dec. 3 at the Cocoanut Grove, Erickson asked, "Is it on CruzCal?"
Santa Cruz entrepreneurs Chris Miller and Steve Terry announced a $100,000 Indiegogo campaign for LidFlush, their $25 solution to end the toilet seat war. Miller envisions a Soquel firm manufacturing some parts and hiring locally for assembly and shipping.
The loudest applause came for Nick Halmos of Santa Cruz-based Cityblooms, which developed an aquaponic greenhouse run by water-saving technology and growing lettuce for Plantronics' cafeteria.
Jean-Claude Goldenstein, founder of myCREOpoint.com, who left New York for the Bay Area and is looking for a tech community like the one outside Cannes, France, found Santa Cruz appealing.
"There's so much talent here," he said.
Read original article here: http://www.santacruzsentinel.com/technology/ci_26886686/santa-cruz-tech-rise-attracting-interest-from-london
###
Tagged Santa Cruz New Tech Meetup