Companies
Plantronics second quarter sale climb 11 percent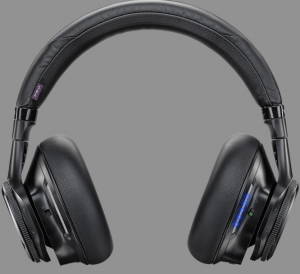 by Jennifer Pittman
Santa Cruz Sentinel
(Photo above: Backbeat Pro headset, from Plantronics' website.)
Company unveils new 'smart' call center technology and sports line
Santa Cruz headset maker Plantronics saw double-digit growth in all financial indicators for the second fiscal quarter of 2015 and reported technology advances in new product lines.
The improvement "was the result of continued strength in unified communications paired with healthy growth in our core product areas," said Ken Kannappan, CEO and president.
Company net revenues of nearly $216 million were up 11.3 percent from a year ago; net income was $27.42 million, up 18.5 percent and earnings per diluted share were 65 cents, up 22.6 percent.
Other big news for the quarter included "revolutionary" headset technology for a business environment or call center office that actively monitors and reports on ongoing conversations.
The new "contextual intelligence" technology for office and call centers tracks when customers are put on hold or mute, detects when two parties are talking at the same time and when a user is no longer available to talk from within a private area.
Privacy is a critical issue for callers handling medical or financial conversations. The new phone can automatically darken a private screen and reroute calls to another worker.
"There's an old saying, 'if you can't measure it, you can't manage it,'" Kannappan said. "Contact centers are very interested in capturing the information to improve performance in customer service." The information about phone use will identify problems and help managers coach agents, he said.
Plantronics continued to see strong growth in its unified communications market, which provides more "smart" technology that allows users to use the same headset across multiple phone, computer and mobile platforms. That area of the company's business grew by 30 percent to $47.8 million by picking up business in all of the company's geographic regions, according to Pam Strayer, chief financial officer.
Continue reading full article here: http://www.santacruzsentinel.com/santacruz/ci_26817538/plantronics-second-quarter-sale-climb-11-percent
Tagged Plantronics