Companies
Why is Unify big news for Santa Cruz?

by Sara Isenberg
Publisher, Santa Cruz Tech Beat
[Editor's note: For more on this topic, read Global Fortune 500 tech offshoot plans new office in … Santa Cruz? and Behind the scenes: Why Santa Cruz won Unify]
Unify, formerly known as Siemens Enterprise Communications, plans to establish a Santa Cruz Sales office
One of the big (and very last minute) news items at Wednesday's Santa Cruz New Tech Meetup was the announcement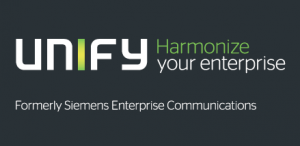 that Unify, formerly known as Siemens Enterprise Communications, has plans to establish a Santa Cruz Sales office for their Project Ancible.
I had the opportunity to talk with J Guevara, City of Santa Cruz Economic Development Manager, about the importance of this for Santa Cruz.
SCTB: Why is Unify's announcement significant for Santa Cruz?
J: Unify's announcement is incredibly significant and exciting for Santa Cruz because it shows how our ecosystem grows startups — like Looker and most recently Tuul and Acorn App — as well as attracts Fortune 500 companies to our vibrant and innovative tech scene in Santa Cruz. Eighteen high-skilled jobs in Santa Cruz keeps our talent local and further contributes to our thriving community. It is no small matter that a global company looking to innovate one of its core communications products wants to be a part of Santa Cruz.
SCTB: What factors contributed to Unify selecting Santa Cruz over other locations?
J: Aside from obvious importance of infrastructure and a business-friendly community, in the innovation sector, talent is everything. And Santa Cruz provides an amazing place to work, live, and play in ways that Boston, San Francisco, and Palo Alto can't always satisfy. The 21st-century workforce wants to contribute in theirs jobs while also having the flexibility to surf, bike, hike, volunteer, be a part of creative culture, and — as Richard Florida has consistently pointed out — a place where one can be themselves because the community values diversity where people can truly be comfortable being their unique selves. All the other locations certainly provide infrastructure, a vibrant business climate, while affording tolerant cultures but there is no place like Santa Cruz. A breathtaking environment, a unique scale, and a committed business community that is building the future of business. Companies like Unify recognize the value of Santa Cruz and how it helps them attract and build the team they need because we all want sustainable, impactful, and innovative job opportunities in this amazing place we call home.
SCTB: What was City of SC Economic Development Office's role in initiating, hosting, and/or facilitating the decision makers and ultimate decision?
J: Santa Cruz Economic Development is the community's resource for all things business. I helped to connect the Unify team and the incredible work of Matt Herman at WaveStaff to showcase the business culture of our tech community including how our co-working spaces like NextSpace and Cruzioworks have set the industry standards, how Cruzio is one of the country's oldest and most advanced ISPs, and how deep and authentic our community is with events such as all the volunteers like Doug Erickson that make Santa Cruz New Tech Meetup a meaningful and profitable place to do business. Unify is a win for the community because the community welcomed Unify.
SCTB: What skill sets will Unify  be looking to hire?
J: Unify is looking for talent to build their primary sales team for the Project Ansible product including sales development representatives, account executives and customer success managers. These are positions on-par with over-the-hill pay with this-side-of-the-hill happiness. People can learn more about the opportunities by contacting WaveStaff.
###
Tagged Project Ancible, Unify