Companies
Acorn App: From Santa Cruz to New York City and back again
By Frank Scott Krueger
Acorn Co-Founder & CDO
[Editor's note: Acorn has been covered by Tech Crunch, Alley Watch, Santa Cruz Sentinel, and featured on Fox Business as the startup of the week.]
The story of Acorn: how love in true geek fashion inspired this location triggered messaging app
In January 2014 Gabriel Otte, the CEO and co-founder of Acorn, decided to find a creative way to propose to his girlfriend. The result, a digital scavenger hunt that would lead her from one location-aware clue to the other, eventually culminating in a proposal. (Adorable, right?) However, once he realized that the necessary technology to do this didn't exist, in true geek fashion, he decided to code his own iOS location-messaging app. While coding, he became obsessed with optimizing the app's location accuracy without sacrificing battery life, a feat that has not yet been mastered by much larger companies like Foursquare, Google or Apple.
Imagine, wanting to use a technology that does not yet exist and resolving that issue by developing it yourself. Simple right? Not really. Unless perhaps, you have been coding since you were a nine-year-old. Gabe Otte released his first public app when he was fourteen, and was hired at Apple directly out of San Lorenzo Valley High School where he helped develop location-technology on the iPhone.
Building the team
Gabriel and his brother Michael decided that the technology had real-life value and began building a team to bring it to life. They had much of the technical expertise between the two of them, and I was invited to join them and fill in their weaknesses, specifically with the UI/UX design of the app. I'm honored to round out the founding team with my graphic design experience and entrepreneurial background.
Within a week we built a functioning alpha version of the app and we were accepted to DreamIt Ventures' accelerator, a New York-based program ranked third in the world by Forbes. In May 2014, Acorn™ was born.
Location-triggered reminders and messages
You are probably asking yourself, 250 words into this story, what does this app actually do? Acorn (drumroll, dramatic pause) is a mobile platform that allows you to set location-triggered reminders and messages anywhere in the world. When you or a friend enter the radius of an "acorn," the message pops up. When you leave the radius, the acorn message can no longer be viewed. The concept is simple; the implementation is wide-ranging.
Acorn can be used to leave yourself a grocery list at a grocery store around town. It lets you drop messages in specific locations such as "Whole Foods on Soquel Ave" or in multiple locations at once by typing in general words like "grocery stores."
App learns from users
We specialize in machine-learning, so our app learns from our users and is smart enough to automatically drop acorns at stores that are relevant to you—no matter where you are. What's more, Acorn learns from your daily travel patterns and only presents you with content at opportune times. In other words, were you to drop yourself an acorn to pick up the dry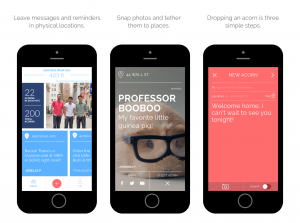 cleaning, you would only receive the push notification once you were on your way home from work (when most people pick up their clothes).
More than a productivity tool, our younger users utilize Acorn as new type of place-based social network. Whether it's a mushy love note arriving right when that "special someone" walks through the door, or location-aware tips and reviews of the best lattes in town, tethering thoughts to locations seems to be catching on.
Live in the app store
After all, we've been live in the app store for just five weeks and are hosting over 2,000 active users. Better yet, we've spent $0 on advertising to date.
To sum it all up, we're creating acorn because we're tired of being inundated with messages, emails, and notifications when we can't respond. We get work-related messages when we're at home, and personal messages in the middle of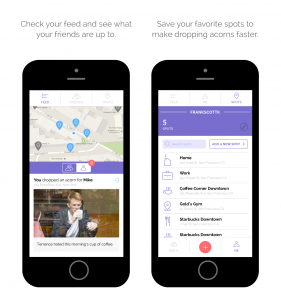 meetings. According to a 2013 New York Times Article, the number one reason why people don't respond to emails and messages is because they forget they exist by the time they are in a place to respond to them. Simply put, information does present itself in the right place at the right time.
By tethering messages to physical locations, Acorn triggers relevant information when you need it.
Homecoming
This month, the Acorn team is moving its headquarters from New York City to Santa Cruz, where we grew up. We want to be a part of the blossoming tech community here. Not only is there a talented pool of coders to tap into, but the culture is much more collaborative than other entrepreneurial communities. Most importantly, it's home. This is where we will be happy building a company.
Over the next couple of months, we're looking to hire Android and iOS engineers, and a server engineer to help us realize our visions.
Oh! For those of you that are wondering…she said yes!
For more information:
###
Tagged Acorn App