Featured
Undergrads present work at Summer Research Symposium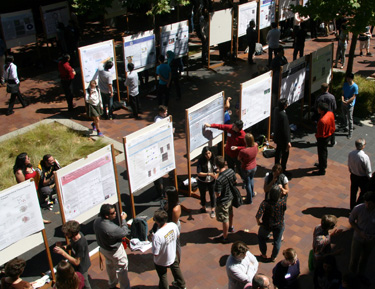 by Tim Stephens
UC Santa Cruz
(photo credit: Tim Stephens)
Research presentations featured UCSC students in a range of disciplines and other students who came to UCSC for summer research opportunities.
A diverse crowd of undergraduate researchers gathered in the Engineering Courtyard on August 15 to present the results of their summer research projects. They included UC Santa Cruz students doing research in a broad range of disciplines, from bioengineering and physics to linguistics and psychology. The event also included students from other universities around the country who came to UC Santa Cruz for summer experiences in undergraduate research.
Many of the students who presented their work are participants in various programs at UCSC that support underrepresented students in STEM fields (science, technology, engineering, and mathematics), said Malika Bell, director of STEM diversity programs at UCSC, whose office organized the symposium. The STEM diversity programs offer students financial support, mentorships, and research training.
Continue reading full article here: http://news.ucsc.edu/2014/08/summer-research-symposium.html
###
Tagged UC Santa Cruz