Companies
Peggy Dolgenos on the Economic Vitality Strategy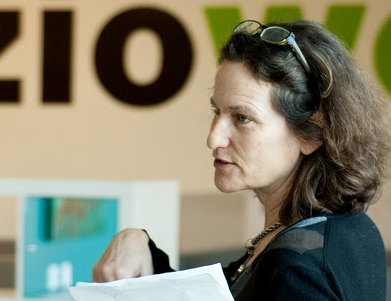 by Alex Feldman
Civinomics
[Editor's note: The deadline for feedback on the EVS has been extended to August 15, 2014.]
Peggy Dolgenos is the Chair of Santa Cruz County Business Council's board and CEO of Cruzio. She has been involved with tech in Santa Cruz for over 25 years with local tech powerhouses SCO and Cruzio. This week I sat down Peggy to talk about Santa Cruz County's recently released Economic Vitality Strategy (EVS). The EVS is Santa Cruz County's first list of tangible goals for the business community and how the County will help with the next few decades of economic development.
In general what was your overall impression of the EVS?
There's a tech sector focus, but everything is interrelated and everything depends on each other. The plan caters to business that people want – sustainable and high tech, and highly educated.
If you had to "brand" Santa Cruz business in one sentence what would it be?
Santa Cruz is an Innovative and Creative community with amazing high tech skills.
How severe is the problem of affordable housing in Santa Cruz?
The problem is just awful, we lose employees who aren't able to afford working and living in Santa Cruz. We need smart, sustainable development to keep talent local.
Any ideas on how to how to improve Santa Cruz's brand?
The Santa Cruz tech community has no recorded history. There have been so many tech innovators that have called Santa Cruz home, but their achievements have never been documented. Creating a history would not only give credit to individuals, but would also establish a concrete record and add even more legitimacy to the Santa Cruz tech scene.
For instance, we are celebrating 25 years of Cruzio – one of the first internet service providers in the world. This is historic, something you don't hear about much from Santa Cruz.
(To help Peggy with the Santa Cruz Tech History Project, click here.)
Continue reading the article here: http://civinomics.wordpress.com/2014/07/25/peggy-dolgenos-on-the-economic-vitality-strategy/
###
Sara Isenberg publishes Santa Cruz Tech Beat for the benefit of the extended business and technology community. When she is not volunteering her time for the tech scene, Sara makes her living by managing software projects, web strategy planning, and providing development team services (including account management, vendor management, strategic partner management, beta project management, referrals to qualified technical team members, and more). Please visit her website: Sara Isenberg Web Consulting & Project Management, or contact Sara by email if you have any project management, account management, or Development Team leadership or service needs.
Tagged Civinomics