Companies
Cosmic Sponsors Santa Cruz Local 831 United Pixelworkers T-shirt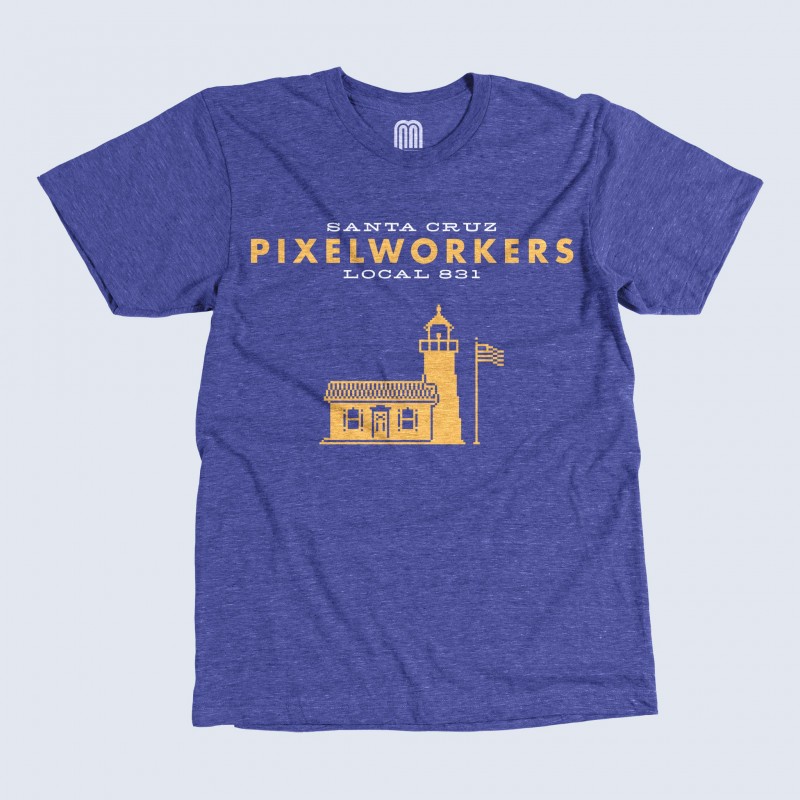 by Matt Steele
Cosmic
Santa Cruzans in design and tech now have a new way to show their colors – literally.
Inspired by the original United Pixelworkers shirts, local designers Cosmic have designed the graphics for a shirt to represent Santa Cruz around the world.
When asked why his company decided to sponsor the shirt, Cosmic founder Eric Ressler replied, "We're just doing our part to raise awareness of the design and tech community in the Santa Cruz."
United Pixelworkers started as a side project for a web design studio in Pittsburgh, PA called Full Stop. On a drive across Pennsylvania in early 2010, Full Stop co-founder Jay Fanelli had an idea: what about a union? A union gives people a reason to show pride in their craft, but also represents where they live. And so the Rust Belt Pixelworkers Union was born, an idea that quickly morphed into United Pixelworkers (an homage to Pittsburgh's own United Steelworkers).
They launched United Pixelworkers with just three t-shirts: Pittsburgh (the Local 412), Philadelphia (the Local 215), and the original Standard Issue. By the end of 2010, they'd made t-shirts for New York, San Francisco, Boston, Washington D.C., Chicago, and Seattle, selling a handful of each. In early 2011, they started asking friends in the industry to design tees for them, and UP exploded. They're now selling a few hundred a month.
In December 2013 they opened the doors for design firms across the USA to design and sponsors shirts to represent their community. Santa Cruz design firm Cosmic jumped at the chance. They sent several designs to United Pixelworkers and UP chose one with our iconic lighthouse & surf museum.
Next came the sponsorship. When Cosmic agreed to sponsor the Santa Cruz Pixelworkers Local 831 t-shirt, they sent in a pledge to directly fund a print run of the shirts. They hold the sponsorship until stock runs out. Then the sponsorship opens up again. Cosmic doesn't make any money from the sale of the shirts. It's just a great way to get the word out about the burgeoning tech community here is Santa Cruz.
The Pixelworkers Local 831 shirt is now for sale on the UP site. Get one and wear it with Santa Cruz pride. unitedpixelworkers.com
###
Sara Isenberg publishes Santa Cruz Tech Beat for the benefit of the extended business and technology community. When she is not volunteering her time for the tech scene, Sara makes her living by managing software projects, web strategy planning, and providing development team services (including account management, vendor management, strategic partner management, beta project management, referrals to qualified technical team members, and more). Please visit her website: Sara Isenberg Web Consulting & Project Management, or contact Sara by email if you have any project management, account management, or Development Team leadership or service needs.
Tagged Cosmic, Pixelworkers, Santa Cruz Local 831 United Pixelworkers T-shirt