Companies
7 ways to make your startup's explainer video more awesome
by Emily Cohan
It's Great Media

1. KEEP IT SHORT
Most videos should be 1-2 minute videos. Time is very valuable to both customers and investors, so keep your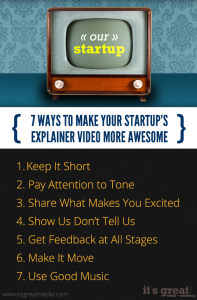 message concise, relevant, and interesting.
2. PAY ATTENTION TO TONE
If your startup has already developed a company tone, wonderful – you are ahead of the game. If not, don't worry. We recommending taking an honest look at where you are at in your startup and where you want to be and use this to define your tone. For example, if you have a serious product, but you are only in prototype stage, you might not want to act like you are ready to take on large-scale clients, nor should you act like the product is a joke either.
3. SHARE WHAT MAKES YOU EXCITED
Are you excited about your startup? Why are you excited? Is it that you are helping a technology evolve? Helping customers in work or play? Are you being disruptive – and changing how things get done in the world? Do you do it better, faster, smarter? One of the best ways for people to relate to you and your startup is to convey the passion you have about your own business, and how that has turned into a product or service that helps customers.
4. SHOW US DON'T TELL US
I hear business mentors and creative directors alike say this all the time. Show us – don't tell us. If you can, try to show actual demos of someone using your product or testimonials of how your startup transformed how they do business. Even showing photos of the product is better than just an interview of people from your company.
5. GET FEEDBACK AT ALL STAGES
Get feedback from others – whether from peers, friends or family – during the entire process. Getting feedback can help you shape how you tell your company story effectively, and help you decide how you want to produce the video. That being said, you should also make sure to go with your gut and don't listen to advice that does not sit right with you.
6. MAKE IT MOVE
If you use any titles or powerpoint slides, make them move gently if you can. This can be a gentle zoom or fade in. It hurts our eyes to look at static screens.
7. USE GOOD MUSIC
You can find royalty free stock music clips on sites like AudioJungle and iStockPhoto. This is where we often purchase music for startup corporate video projects.
Original article: http://itsgreatmedia.com/7-ways-to-make-your-startups-explainer-video-more-awesome/
###
Sara Isenberg publishes Santa Cruz Tech Beat for the benefit of the extended business and technology community. When she is not volunteering her time for the tech scene, Sara makes her living by managing software projects, web strategy planning, and providing development team services (including account management, vendor management, strategic partner management, beta project management, referrals to qualified technical team members, and more). Please visit her website: Sara Isenberg Web Consulting & Project Management, or contact Sara by email if you have any project management, account management, or Development Team leadership or service needs.
Tagged video
Related Posts