Featured
3D model reconstructs drone video of washed out Highway 1 south of Big Sur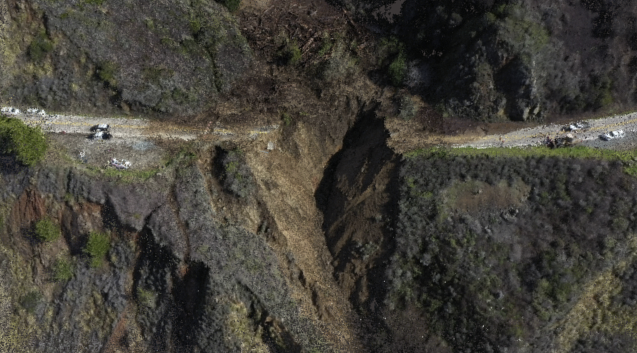 By Sara Isenberg
Founder, Publisher, Editor-in-Chief, Santa Cruz Tech Beat
January 31, 2021 — Santa Cruz, CA
"Seeing that big gouge in the hillside in 3D helps convey just how powerful last week's weather was and how much land and road washed away." — Kathleen Tuite
Highway 1 washed out at Rat Creek south of Big Sur last Thursday due to the massive rain storms. Last Friday, the San Francisco Chronicle shared impressive drone footage of the washout.
Santa Cruz technologist Kathleen Tuite is "passionate about 3D reconstruction, augmented reality, and anything that turns the camera into a creative tool." After viewing the footage, Tuite created a 3D model of the Highway 1 scene. (Scroll down below the video to learn more about how she did it.)
View 3D model of Highway 1 washout south of Big Sur:
Here's how Tuite created the model. She writes:
This 3D model is reconstructed from a drone video filmed by folks at the SF Chronicle. I took individual frames from the video (115 pictures in total) and used a computer vision technique called "photogrammetry" or "structure from motion" to reconstruct the 3D geometry of the hillside.
The technique is similar to how we as humans perceive depth from seeing slightly different views of the same thing from our two eyes. If you have many different pictures of the same scene from different viewpoints ("moving" the camera around), there is often enough information for a computer to figure out the depth and the "structure" of the scene. Another name for this technique is photogrammetry.
It's a really cool combination of computing, math, and photography! I did a lot of work in this space early in grad school about a decade ago, including building a collaborative crowdsourcing game called PhotoCity, where players ran around outside taking photos and building 3D models of their school campuses. I've been thinking about that project the last few months of the pandemic, through the destructive fires and rains. 
When I saw the video of this big cavity in Highway 1, I thought it would be a good candidate for photogrammetry (lots of texture and detail), and it was! Seeing that big gouge in the hillside in 3D (vs. a photo or video) helps convey just how powerful last week's weather was and how much land and road washed away. 
###