Featured
Grant funding will advance aquaculture research in UCSC's new state-of-the-art facility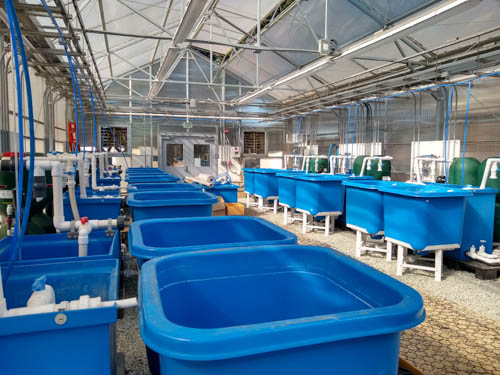 By Allison Arteaga Soergel
UC Santa Cruz
January 22, 2021 — Santa Cruz, CA
(Photo above: The team's newly-constructed recirculating aquaculture facility will model 
sustainability practices for integrating aquaculture with agriculture. Source: UCSC)
The research team is working to develop a more sustainable feed for farmed rainbow trout
This month, two faculty members from UC Santa Cruz's Environmental Studies Department won a $496,000 grant from the U.S. Department of Agriculture to support innovations in sustainable aquaculture. The funding will help principal investigator Pallab Sarker, an associate research professor and sustainable aquaculture and fish nutrition expert, and co-principal investigator professor Anne Kapuscinski, a sustainability science and policy expert, in their efforts to develop a more ocean-friendly feed formula for farm-raised rainbow trout. 
They hope to use proteins and oils derived from a combination of marine microalgae to replace traditional fishmeal and fish oil ingredients sourced from wild-caught forage fish like anchovies, sardines, and herring. Currently, the aquaculture industry's demand for forage fish, in the form of fishmeal and fish oil, diverts these fish away from providing natural food resources for wild animals within ocean food webs. That's why the research team is looking for ways to "uncouple" aquaculture feeds from ocean food webs by developing new feed formulations that don't rely on ingredients from wild fish.
Sarker and Kapuscinski published a major breakthrough on this front in November: the first fully fish-free feed formula for farmed tilapia to demonstrate across-the-board gains in sustainability, fish growth, economic viability, and nutritional value for human consumers. Now, the researchers are hoping to replicate their success with rainbow trout. That goal is especially important since trout and their relatives, salmon, are some of aquaculture's largest consumers of fishmeal and fish oil. But getting these particular species onto a fish-free diet will be challenging. 
Continue reading here: https://news.ucsc.edu/2021/01/usda-grant-aquaculture.html
###
Tagged aquaculture, UC Santa Cruz