Companies
NY Times: Reed Hastings had us all staying home before we had to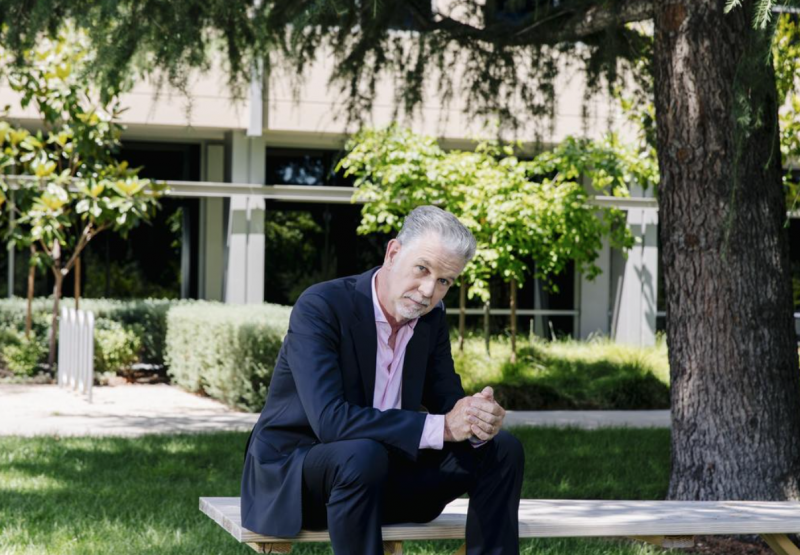 By Maureen Dowd
NY Times
September 9, 2020 — Los Gatos, CA
(Photo above: Reed Hastings, CEO of Netflix, near the company's headquarters in Los Gatos, Aug. 11, 2020. Credit: Cayce Clifford/The New York Times)
Does it feel good to be the man who killed Hollywood?
"No," said Reed Hastings, who nurtured Netflix into the Godzilla of the entertainment world. "But, of course, we haven't killed Hollywood."
At 59, the slender, gray-haired Mr. Hastings remains a mystery in the industry he dominates. "He's a complete cipher here," one Hollywood macher said.
You won't find Mr. Hastings hanging with the stars at the San Vicente Bungalows. He doesn't bellow at the pool at the Hotel du Cap or swan around at premieres. He may show up in line at Sundance, but he's not cutting the line.
He started a delivery system for movies, and now his company is one of the most powerful forces in movies. In the capital of drama, Mr. Hastings is, without drama, ripping out the infrastructure and replacing it with his own.
Continue reading here: https://www.nytimes.com/2020/09/04/style/reed-hastings-netflix-interview.html
###
Tagged Netflix, Reed Hastings