Featured
UCSC alumnus leads massive effort to ramp up COVID-19 testing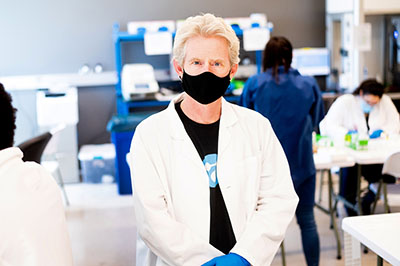 By Dan White
UC Santa Cruz
May 5, 2020 – Santa Cruz, CA
(Photo above: Joe DeRisi, UCSC Crown College '92, biochemistry and molecular biology, wearing a protective mask at the Chan Zuckerberg Biohub. Source: UC Santa Cruz))
Joe DeRisi, award-winning "disease tracker," converted unused lab space into one of America's most prolific COVID-19 testing centers in eight days
One of the world's leading disease detectives, Joe DeRisi (Crown '92, biochemistry and molecular biology), has spent his professional life studying and fighting viruses.
Among DeRisi's crowning achievements was inventing the ViroChip, a device that played an instrumental role in assisting with the identification of the deadly SARS coronavirus in 2003.
Yet DeRisi, for all of his long history on the front lines of virus research, has never seen anything quite like COVID-19.
"It's unique in the sense that it's truly global, because it's impacting everyone in so many ways," DeRisi said. "In my experience, there is nothing like it."
These days, DeRisi, a soft-spoken professor of biophysics and biochemistry at UC San Francisco, is one of the leading scientists in the fight against the novel coronavirus, helming a massive effort to ramp up state-of-the-art clinical laboratory testing for COVID-19 throughout California, while pioneering large-scale testing in Bay Area communities.
Laboring in the limelight
DeRisi has been in the limelight before—he's a MacArthur Foundation "Genius Award" recipient who has given high-profile TED Talks about his virology investigations. Drawing from the training he received at a science communications class at UC Santa Cruz, DeRisi has gained a following with his complex, yet accessible and entertaining, TED Talk presentations. He also made a splash in 2018 with the launch of IDseq, a cloud-based, open-sourced platform that uses metagenomic sequencing to track and respond to infectious outbreaks especially in low and middle income countries.
But his recent COVID work has given him an even higher profile. In a recent feature story for Bloomberg.com, the bestselling author Michael Lewis profiled him in a story titled, "Notes From a Pandemic: The COVID test that could save America."
He is also part of a public-private partnership that could serve as a model for COVID testing across the globe. The lab, known as the Chan Zuckerberg Biohub, has shared its expertise with "pop-up" testing labs at his alma mater UC Santa Cruz and UC Santa Barbara, and gave guidance to UC Berkeley on how to start their own lab.
DeRisi is co-president of the Chan Zuckerberg Biohub, created with the help of $600 million from Facebook founder Mark Zuckerberg and his wife, pediatrician Priscilla Chan. Priscilla, a pediatrician, first encountered Joe as a medical student at UCSF. He gave a lecture about his work using DNA microarrays and metagenomic sequencing to identify any virus, in any sample, whether or not they had been studied before.
Chan never forgot that talk, and realized that DeRisi would be an essential partner for her Biohub project with Zuckerberg, with its audacious goal of wiping out all diseases in the 21st century.
With Chan and Zuckerberg's high-profile backing, and the remarkable efforts of 200 volunteers, mostly UCSF graduate students, DeRisi was able to convert adjacent vacant UCSF lab space to a fully functioning, clinically certified COVID-19 testing lab in only eight days. This fast timeline was a high priority for the state government. In fact, an executive order from Governor Gavin Newsom got the project in motion, right around the time when the governor started issuing strict shelter-in-place orders to "flatten the curve" of coronavirus in California.
Because of the Biohub's unique structure, a private-public partnership that blends high tech with open-source scientific practices, "we can be flexible, we can be nimble," DeRisi said.
"Everyone pretty much dropped everything they were doing to help. The (UCSF campus) lab had shut down, so we had this huge population of incredibly well-trained molecular biologists just itching to get into the fight," he continued. "We had our first hundred volunteers in just a week."
Testing game-changer
Today, the lab runs nearly 24 hours a day, with shifts of UCSF volunteers processing the tests, all supported by a team of Biohub scientists, including data scientists, engineers, and molecular biologists.
The results have already been game-changing for COVID-19 testing in California. As soon as it was up and running, the lab had the capacity to process more than 2,600 free tests a day in nine Bay Area counties. Most patient samples arrive from nearby hospitals and public health laboratories.
Now the lab is offering free testing to every department of health in California.
"That's important, because those departments are the ones that serve people in nursing homes, prisons, and other vulnerable populations," said DeRisi.
Unfortunately, supply shortfalls for nasal swabs have prevented the counties from taking full advantage of all that free testing, however that is changing with supplies of collection kits becoming more plentiful.
And that massive amount of testing is just one facet of DeRisi's far-ranging battle against COVID. The lab is now entering a new phase as it undertakes large-scale testing of Bay Area communities including the San Francisco Mission District, and Berkeley. Indeed, during the last week of April, the Biohub testing lab processed over 4000 samples. Among the first of these community projects was a survey of the residents of Bolinas, a small West Marin community.
"We were able to do that in just a couple of days," he said. "That study was really the training wheels, to figure out where the wrinkles were when you're doing community surveillance."
He said he didn't see the swab limitation early on, and he's "kicking myself for not buying up a million swabs in December. We've learned a lot of lessons in the global supply chain. But those limitations are getting ironed out."
DeRisi is careful not to anthropomorphize the coronavirus.
"I don't think of it as a foe with intelligence," he said. "It's basically an evolved little machine that has leaked into our population. It is a foe that we are up against, but it is tractable. I am very optimistic (about the fight against COVID-19). How long will it take? How rough will it be? Nobody knows, but we have the tools."
The class that changed his life
DeRisi has had plenty of training in battles against other deadly viruses. Aside from his work identifying many disease-causing viruses that plague humans, he's also identified scourges that afflict a variety of animals, including sharks, snakes, and numerous species of birds.
But even before getting tested in the front lines of these virus wars, DeRisi learned valuable, and sometimes painful, lessons about problem solving, deadlines, and troubleshooting while taking an intensive 10-week lab course at UC Santa Cruz with Harry Noller, professor emeritus of MCD biology and winner of the 2016 Breakthrough Prize in Life Sciences.
In that class, DeRisi learned an important truth about lab work and scientific inquiry: Learning and coming back from failure is an essential part of that process.
He also learned how to build a lab from scratch under an extremely tight deadline, a feat he would re-create when "sprinting" to get his testing lab up and running at UCSF.
"We threw the students into the deep end of the pool and watched what happened," Noller recalled. "The lab was open to them 24/7. You could find them working at nights and on weekends. There were wild celebrations and tearful breakdowns. Many students formed life-long bonds."
In that course, "Joe was clearly exceptional," said Noller. "His excitement and curiosity were infectious."
Not only that, but DeRisi passed the most critical test in the class that quarter.
"His experiments worked!" Noller said. "He was a joy to have as a student. It has been a pleasure to see him emerge as a world leader in the field of molecular virology."
Sharing the method
Now, DeRisi and his colleagues are working hard to finish up a manuscript that will serve as a guidebook and a chronicle of everything they have done to ramp up COVID testing. The book will be technical, making it easier for labs all over the world to replicate his work at UCSF. This is part of DeRisi's "open source" philosophy.
"What we did at the lab is organizationally complex, but it's also nimble," he said. "Our structure allows us to pivot on a dime."
This book will spill all the secrets of this private-public partnership, and what it has been able to achieve in such a short time. The philosophy will be "you can do it too.""It will be like the Hitchhiker's Guide to COVID-19," DeRisi said. "The first lesson is, 'Don't Panic.'"
###
Originally published: https://news.ucsc.edu/2020/05/joe-derisi-covid-lab-story.html
###
Tagged COVID-19, UC Santa Cruz