Companies
Monterey lab adjusts to evolving COVID-19 testing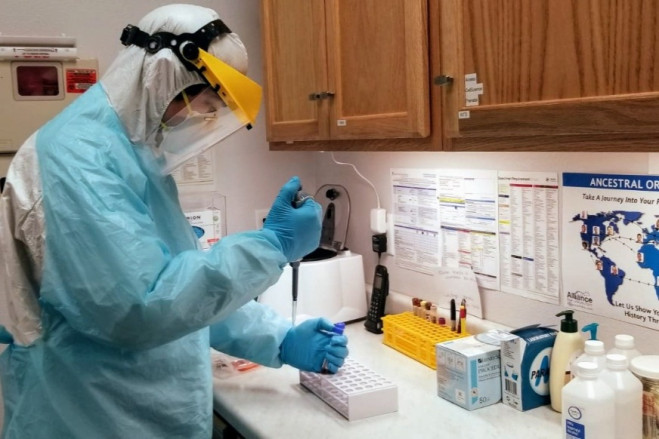 By Dennis L. Taylor,
Monterey Herald
April 15, 2020 — Monterey, CA
(Photo above: A lab technician at ARCpoint Labs in Monterey tests for the presence of antibodies specific to the coronavirus that causes COVID-19. Source: Monterey Herald, courtesy of ARCpoint Labs.)
Many health-care providers say testing is the key to getting the pandemic under control, and the one constant for the labs involved is that the testing technology is almost certain to change.
The one thing certain about any lab testing for the virus that causes COVID-19 is it must remain nimble to accommodate a rapidly changing landscape. A private lab in Monterey has been navigating those changes as coronavirus testing has evolved to become the vast majority of its current workload.
On any given day before the pandemic, ARCpoint Labs of Monterey Bay would busy itself with drug testing, alcohol screening, DNA and clinical lab testing, corporate wellness programs and employment and background screening. Much of its DNA work entails alerting clients to whether they may have an increased risk of cancers.
About two-thirds of their business came from wellness testing, specialized testing for people with specific conditions or diseases, such as celiac and Lyme disease and mold sensitivities.
But shortly after the virus took hold in the U.S., Spenser Smith, a biochemist and the lab director and co-owner of ARCpoint, said the work pivoted in a few short weeks where testing for this particular coronavirus is now making up 90% of the business.
Continue reading here: https://www.montereyherald.com/2020/04/14/monterey-lab-adjusts-to-evolving-covid-19-testing/
###