Featured
Cabrillo College Makerspace Begins Production of 3-D Printed PPE Masks and Face Shields for Santa Cruz County Medical Providers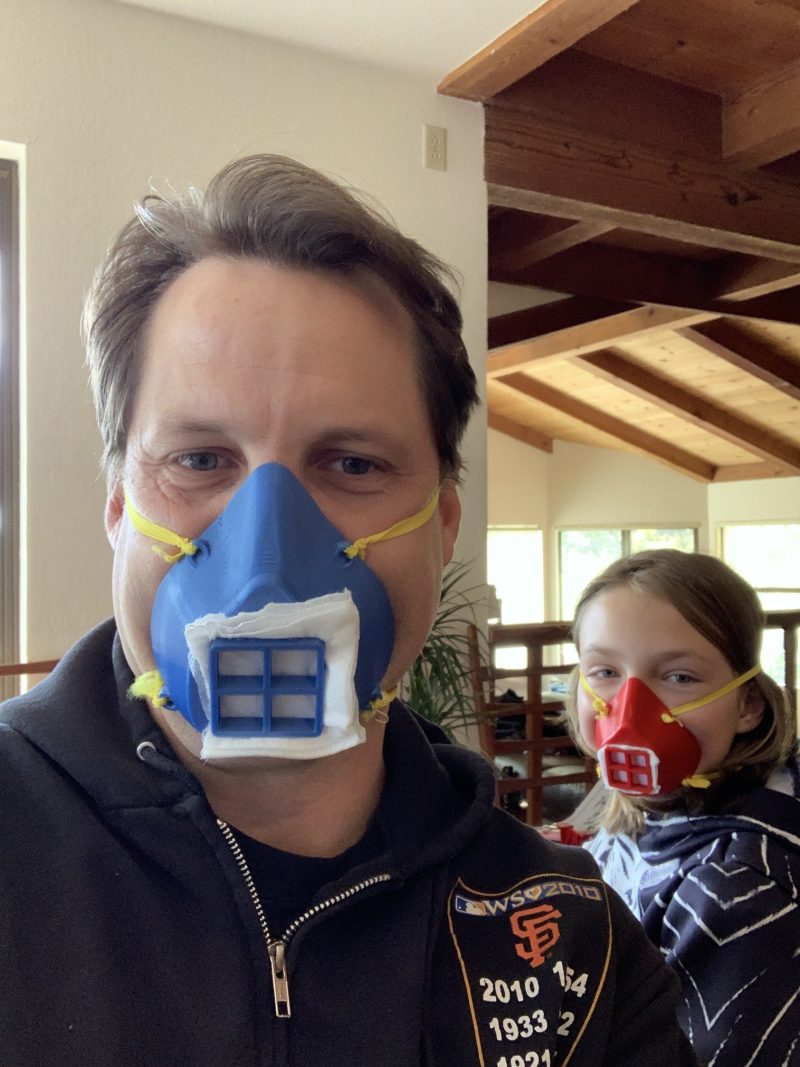 (Contributed)
March 27, 2020 — Aptos, CA
Deemed essential, the Cabrillo College Makerspace is staying open to produce PPE masks and face shields
(Photo above: Payson McNett and his daughter model the PPE masks he is making in the Cabrillo College Makerspace. Contributed.)
In response to the Coronavirus (COVID-19) pandemic and the resulting shortage of medical supplies and PPE masks, Payson McNett, Cabrillo College Art Studio Instructor and Director of Digital Fabrication has a solution — he'll make them. Deemed essential by Cabrillo College Superintendent/President Matt Wetstein, the Cabrillo College Makerspace is staying open to produce PPE masks and face shields, both of which are desperately needed by medical facilities and hospitals nationwide.
McNett has done extensive research on the best options for 3-D printed masks and face shields, which led him to the Billings Clinic Foundation in Montana. Billings Clinic Neurosurgeon Dusty Richardson, MD, in collaboration with Billings-area dentist Spencer Zaugg, DDS and his son Colton, have created and posted designs for durable, reusable plastic masks that can be created using 3D printer technology. According to their website, they are now working to "activate every 3D printer in our community to create these masks."
McNett is answering that call for medical facilities here in Santa Cruz County.
The 3-D printed mask has a snap-in section for medical grade filtration materials that can be changed out as needed. The designs for these PPE masks are posted on the Billings Foundation website, for use by anyone able to produce them. For the time being, McNett is using HEPA vacuum filters, and is working on providing links on the Cabrillo Makerspace website with information and testing and efficacy of other more readily available materials.
McNett got face shield designs from Joseph Prusa, a 3-D printer designer and manufacturer.
"I'm ready to go into production of these items and have a good stockpile of printer filament and Poly Carbonate to keep me busy," said McNett. "I've got a call in to the supplier for the filter cloth listed on their site, and I have about 20 desktop FDM printers and one working Stratasys Dimensions printer that uses ABS. I also have two SLA printers but much less material for those."
Once masks are prototyped, McNett is looking to create rubber gang molds, which will enable him to ramp up production from a current capacity of about 100 masks per day to potentially thousands of masks per day, so long as materials are still available.
McNett is also hoping to eventually develop a breathing machine, though admits it's a much more involved process. He'd like to be ready if and when designs become available.
"If you would like to send me your prototypes I would love to take a look at the files for you and help answer any design questions you might have," continued McNett. "I'm totally open to different or better designs, I just haven't found them yet."
For prototypes or help with designs, please contact Payson McNett at pamcnett@cabrillo.edu. To make a donation for supplies, please donate through the Cabrillo College Foundation at foundation.cabrillo.edu and indicate the donations are for the Digital Fabrication Program.
About the Cabrillo College Makerspace
The Cabrillo College Makerspace is equipped with state of the art technology to assist students with learning to use contemporary tools opening up new and exciting ways of making and adapting classical techniques to the future of making. The Makerspace features 3-D printing and scanning, Laser cutting and engraving, vinyl cutting, and CNC router capabilities.
###
Tagged Cabrillo College, COVID-19, makerspace