Companies
Joby Aviation plans to build a massive factory for flying cars in Marina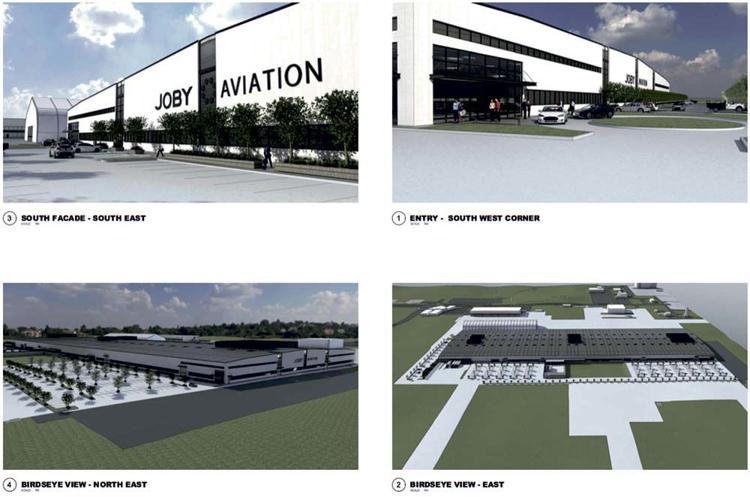 By Asaf Shaley
Monterrey County Weekly
January 21, 2020 — Marina, CA
(Images: Construction of the Joby plant's first phase is scheduled to begin this year, pending Marina Planning Commission approval. Source: City Of Marina Draft Initial Study)
Joby Aviation, the Uber-backed flying car startup, is poised to begin construction on a sprawling manufacturing center at the Marina Municipal Airport in the next few months. As many as 600 high-paying tech jobs could come to the region. Eventually, an entire new electric aviation industry might be spawning here.
Details of Joby's plans were publicly disclosed on Jan. 10 when the city of Marina opened a 30-day period for public comment, publishing an environmental review that describes the project.
The new plant would help Joby meet its commitment to Uber to construct electric vertical take-off and landing (eVTOL) aircraft by 2023, when the ride-hailing company says it will launch its air taxi service.
Joby already maintains a presence at the Marina airport, leasing two hangers that are used for research and development. Now, the company is proposing to construct a full-fledged factory on the airport's south tarmac. The build-out would occur in two phases with an ultimate footprint of 580,000 square feet, the size of more than five average Home Depots. The building would have an arched hangar design with the roof extending to a height of 41 feet.
Continue reading here: https://www.montereycountyweekly.com/news/local_news/joby-aviation-plans-to-build-a-massive-factory-for-flying/article_c4bf7c9e-380a-11ea-8873-ab86fbd1e784.html
###
Tagged Joby Aviation