Events
TEDxSantaCruz Announces Speakers for THE ART OF HOPE Scheduled for the Rio Theatre December 7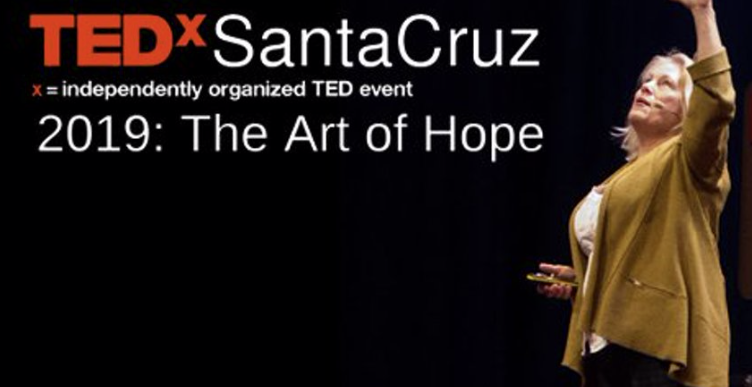 (Contributed)
November 20, 2019 — Santa Cruz, CA
Speakers and Artists to Deliver Some Hope for Fifth Daylong Live TEDxSantaCruz December 7, 2019 at the Rio Theatre
TEDxSantaCruz organizers are kicking off ticket sales for TEDxSantaCruz 2019: THE ART OF HOPE by announcing some of the speakers who will deliver talks at the organization's fifth daylong live event. Those attending will hear local and national speakers and artists speak on a variety of topics curated to inspire and explore THE ART OF HOPE at the Rio Theatre Saturday, December 7, 2019 from 9:00AM to 5:00PM. The event will also be livestreamed.
Speakers will include novelist and essayist Jonathan Franzen, social justice & environmental protection activist Sara Nelson, County Supervisor and Santa Cruz native Ryan Coonerty, immigration attorney & artist-activist Carolina Rubio Wright, and award-winning author Lara Love Hardin.
"We've curated an assembly of speakers who are providing a roadmap to a more equitable, sustainable future, speakers and performers whose creative approach to seemingly intractable problems provides hope in a time when our community and our nation seem to be mired down in division," said TEDxSantaCruz organizer Irene Tsouprake. "We want to highlight some bright wins in our community, and to share ideas and solutions that demonstrate and reinforce our capacity for collaboration and innovation, our resilience in the face of daunting challenges. Speakers will address immigration, governance, education, climate change and AI. What does it take to maintain hope in the face of hopelessness? Can hope be cultivated? How? Hope is unique to the human experience… to hope is to be human."
TED stands for Technology, Entertainment, and Design. In the past 6 years, the internationally renowned TED conference organization has grown to include TEDx events, which are local, self-organized events around the world.  TED licenses independently organized TEDx programs. TEDxSantaCruz 2019: THE ART OF HOPE will be the fifth daylong local TEDx conference. Past TEDxSantaCruz talks are posted online at TED's YouTube channel and have been viewed online over a million times.
Further information and a speaker nomination form are available online at www.tedxsantacruz.org TICKETS ARE ON SALE NOW ONLINE AT EVENTBRITE: TEDxSantaCruz2019.eventbrite.com
About TED
TED is a nonprofit organization devoted to Ideas Worth Spreading. Started as a four-day conference in California 26 years ago, TED has grown to support those world-changing ideas with multiple initiatives. Talks are then made available, free, at TED.com. For information about TEDxSantaCruz's upcoming conferences, visit tedxsantacruz.org, facebook.com/TEDxSantaCruz twitter.com/TEDxSantaCruz, instagram.com/TEDxSantaCruz, and linkedin.com/company/TEDxSantaCruz.
###
Tagged TEDx Santa Cruz