Events
Jack Baskin at 100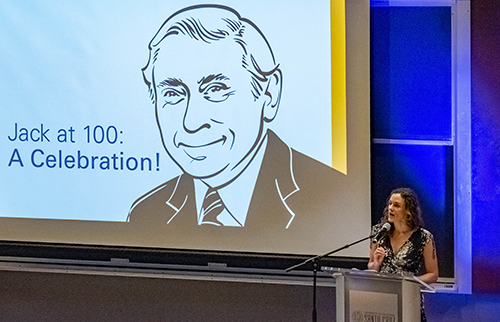 By J.D. Hillard
UC Santa Cruz
September 24, 2019 — Santa Cruz, CA
(Photo above: Nicole Baran, executive director of the Peggy and Jack Baskin Foundation and Jack Baskin's granddaughter, said Jack Baskin is deeply concerned with social issues such as homelessness and women's rights. Photo: Steve Kurtz.)
UC Santa Cruz celebrates the centenary of Jack Baskin, a pivotal donor whose generosity has shaped the university and benefited causes throughout the Monterey Bay area
Even if you didn't listen to the speakers at the September 19, 2019, UC Santa Cruz celebration of Jack Baskin's 100th birthday, Baskin's influence would be hard to miss.
Joining you in the Jack Baskin auditorium at the Jack Baskin School of Engineering were recipients of several academic chairs and endowed professorships bearing his name, as well as Peggy and Jack Baskin Presidential Chair for Feminist Studies Bettina Aptheker.
Alex Wolf, dean of the Jack Baskin School of Engineering, convened the event, which highlighted Baskin's dedication to the campus and numerous significant contributions stretching back to its founding. The presenters portrayed a man with an able wit who knew how to leverage generous gifts to make big changes.
"Jack's generosity and impact is truly unsurpassed at UC Santa Cruz, the City of Santa Cruz, and the Monterey Bay area," Wolf said. "He has a knack for doing the right thing at the right time."
Among these propitious acts was Baskin's response to the floods that devastated several Santa Cruz County neighborhoods in 1982. Recognizing that the community lacked an institution to focus philanthropic resources on local causes, Baskin helped organize what is now Community Foundation Santa Cruz County.
"Jack is a feminist"
Peggy and Jack Baskin Foundation Executive Director Nicole Baran, who is also Baskin's granddaughter, emphasized Baskin's deep concern with social issues.
"You may not think of a 100-year-old white man and feminism," Baran said. "But after all these years, I can say Jack is a feminist."
In foundation board meetings, Jack Baskin would be upset about the challenges of homeless women or immigrant families separated at the border, Baran said. And in addition to its support for UC Santa Cruz, the Peggy and Jack Baskin Foundation funds organizations that support and advocate for immigrants and low-income women.
"He recognizes his privilege came with responsibility," Baran said.
Daughter Elaine Baskin said she holds her father as a role model who worked hard, invested wisely, and made a difference with his philanthropy
Continue reading here: https://news.ucsc.edu/2019/09/baskin-100.html
###