Events
The Kids are Alright: A Glimpse into UCSC's Girls in Engineering Summer Camp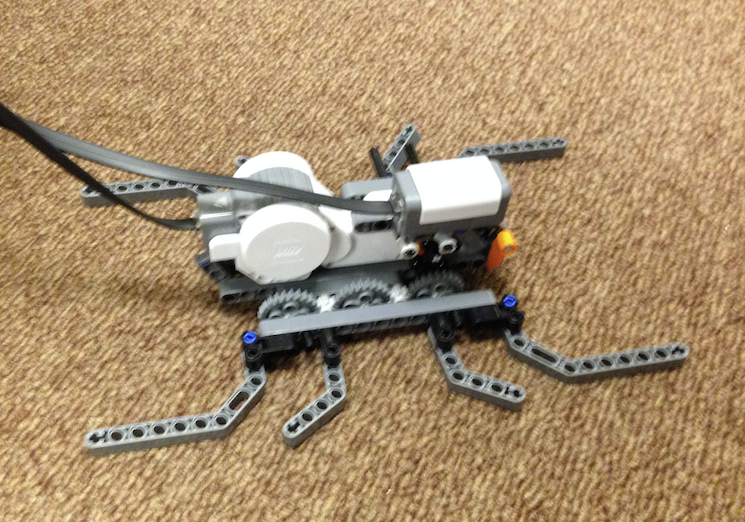 By Paige Welsh
Special to Santa Cruz Tech Beat
(Photo above: Camp participants programmed this Lego Mindstorm robot to scuttle away from the light. Credit: Paige Welsh)
July 24, 2015 — Santa Cruz, CA
According to the National Center for Women and Information Technology, in 2014, only 26% of U.S. computing jobs were held by women. Linda Werner, PhD of computer sciences, is addressing the problem with her boots on the ground by mentoring California middle school students at Girls in Engineering, a week long summer camp held at the UCSC campus. Werner hopes she will teach the girls how to experiment with their skills and help them take risks without fear of comparison.
"Young boys are encouraged to play, break things, and put them back together again. We have not encouraged girls to do that in the past. This is a way to provide an environment where we don't have the boys that have more confidence. Then, the girls can play with their levels of confidence and learn that they are competent," said Werner.
An Education in Confidence
Thanks to a grant from the Peggy and Jack Baskin Foundation, girls in 7th or 8th grade have the opportunity to attend the five day program free of cost. This includes the free use of shuttle service that goes to locations like Salinas to pick up and drop off the girls. The camp introduces the girls to the basics of programming through Scratch, a programming platform for animations, and LEGO Mindstorms, programmable robots made from LEGO pieces. In a programming session, two girls huddled over a Mindstorm robot with spider-like appendages. They were programming it to scuttle away from the light like a giant plastic roach. When they hit a snag with the code, Werner came over to help, but never took the robot from the girls' hands.
"We try to not take the device away from the girl. If the girl is having problems we ask, 'What do you think is happening? Let's problem solve.' What they're learning now is that engineers make mistakes. That's something that they have to learn; that they don't have to be perfect the first time," said Werner.
About fifteen minutes of struggling later, the girls solved the problem on their own.
To the Laboratory!
The girls are still kids, so the camp regularly takes them away from computer screens. Traditional camp games, like passing a hula hoop around a circle where they all join hands, get them on their feet and reinforce teamwork. The girls also take tours UCSC's labs and local tech companies where they can see female role models at work.
On a trip to the Haussler lab, the girls got to glimpse how UCSC researchers are growing human and primate brain tissues in petri dishes. All the girls had to put on a lab coat to follow lab safety protocol and to start imagining themselves in the coat one day. The girls murmured soft "wows" and asked questions as Dr. Sofie Salama and a few PhD candidates guided the girls through the lab. A room-sized refrigerator for reagents, a closet-sized dark room for testing whether bacteria glow, and clusters of brain cells magnified and projected on a screen were a few of the girls' favorite features. Fatimah, a student at the camp, made full use of her time in the lab by asking questions about everything from how to color code bacteria to the health applications of the lab-grown neurons.
When asked about what she thought about going to an all-girls camp, Fatimah said, "I think it's fun. And it's really rare because usually there's more males than females. I like to be able to be in an all-female group."
Fatimah and all of the other students seem to be flourishing at the camp. Hopefully, in the coming years, this new wave of engineering girls will change the statistics on how many women are out creating in the tech-world.
For information about Girls in Engineering, visit gie.soe.ucsc.edu.
###
Paige Welsh is a  recent UC Santa Cruz graduate with a marine biology major and literature minor. She can be contacted at phwelsh@ucsc.edu.
###
If you wish to republish this article, please follow these guidelines:
Add "The following article by <name of author> was originally published in Santa Cruz Tech Beat" at the top of your copy of SCTB's article and link that text to the original article in SCTB.
If you follow the above guideline (#1), you are welcome to publish a couple paragraphs of teaser text and then "Continue reading in Santa Cruz Tech Beat." and link that text to the original article in SCTB.
Learn more about our guidelines here.