Companies
Data Storytelling in Action: Using Data to Guide your Fantasy Football Draft Strategy (Part II)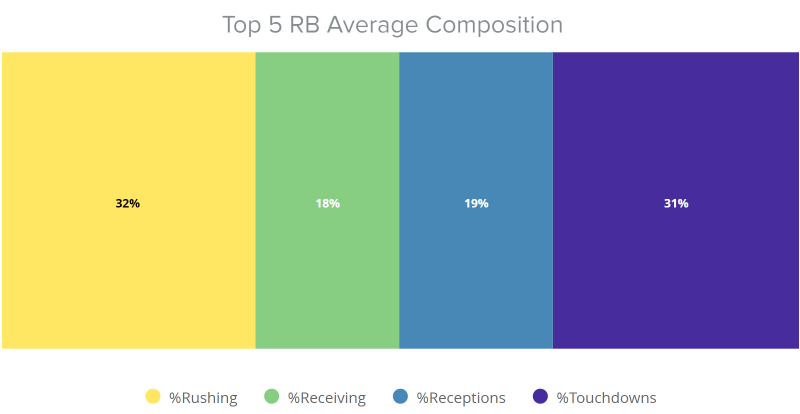 By Jesse Sherb
Sales Engineer at Looker
September 5, 2019 — Santa Cruz, CA
Last year, I wrote a post in preparation for the 2018 Fantasy Football season about two concepts to keep in mind when approaching your draft: Holistic Value and Pick Value.
This year, I'll expand on these concepts while introducing new ways to prepare for your draft. You can find all of this information on this interactive dashboard.
One mistake I've made in the past (and I'm sure I'm not alone) was overly focusing on the top of the draft at the expense of my picks in later rounds.
I've found that it's just as important to round out the bottom of your roster as it is to draft your stars at the top.
You can learn from my mistakes. I'm going to lay out the exact strategies I now use to prepare for every stage of the draft.
Here are some concepts to be aware of that I'll discuss throughout the post.
Key Concepts
Round Composition
Round composition is the strategy of considering multiple rounds at a time to understand the makeup of players to be drafted by position — rather than solely focusing on a single pick or a single round. You can then match that strategy to your team's draft needs.
While this sounds simple, many people default to looking pick-by-pick or round-by-round instead of considering the bigger picture.
For example, in rounds three and four, there are twelve Running Backs (RBs) to only seven Wide Receivers (WRs). Even if you need a RB, it may make sense to still target the best available receiver in the third round knowing there will be plenty more RBs to grab in the fourth.
Continue reading here: https://looker.com/blog/data-driven-fantasy-football-draft-strategy-part-ii
###
Tagged Looker