Companies
A Collective Impact: Interns of Looker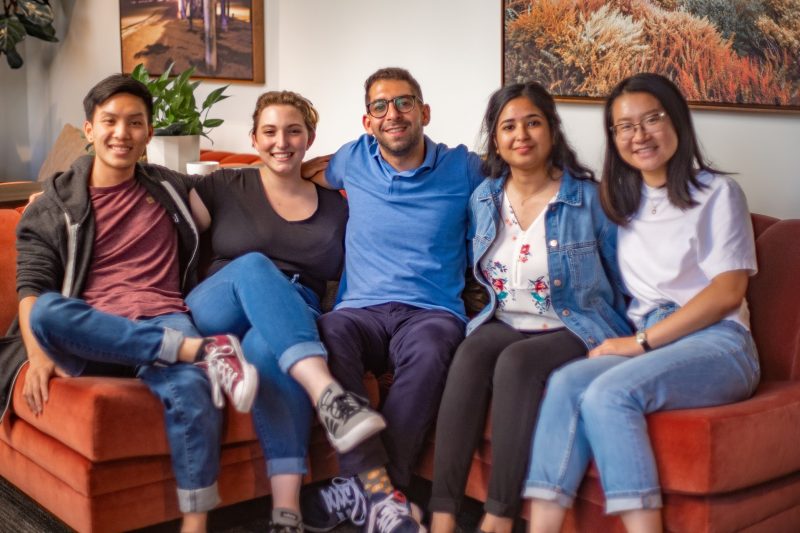 By Kennedy Cartwright
Intern at Looker
August 8, 2019 — Santa Cruz, CA
(Photo above: Left to right, Looker interns Larry Tran, Kennedy Cartwright, Roy Shadmon, Saloni Agrawal, and Grace Lin. Contributed.)
[Editor's note: Intern Kennedy Cartwright wrote A Seat at the Table: My Time as a Looker Intern (7/16/19).]
What's your story? Meet Looker interns Larry Tran, Saloni Agrawal, Roy Shadmon, and Grace Lin.
---
Uncharted Territory
Larry Tran walks into orientation with the confidence of familiarity.
This summer, he has created a dashboard to "guide and give pulse to how EMEA Marketing, Sales, and SDRs are doing throughout the year or quarter" — a project that has given him insight into the challenge of international business.
He spends his mornings on calls with the European offices and feels his time is valued — that his peers recognize the challenge of his task and appreciate his efforts to build a globally beneficial tool.
"[Europe] is very different from the US… different territories within Europe have different needs and cultures. Thus, I created a dashboard specific to each of their needs that helps guide decision making and gives insight into how they're doing."
This is his second summer interning at Looker — an opportunity that came with an abrupt change in perceived expectation.
At Cal Poly, the path of a BIS major is clearly defined. Business Information Systems majors are ushered towards internships, and eventual employment, with the Big Four — major accounting and consulting firms partnered with the university. Larry has watched his brother's future take shape through these opportunities and is excited to do the same.
A recruiter, however, tells him he is "not as focused on BIS as other candidates" because of his interest in marketing. He finds Looker at a career fair. He knows nothing about the company but they are excited by his BIS background and curiosity for other fields.
Now on his second summer interning for Looker, he is thankful he leaned into what spurred his interests.
"Without being told no, I would not have ended up here."
---
Empowered By Looker
For Saloni Agrawal, the Looker internship comes with unexpected revelations.
As an intern in the Department of Customer Love (DCL), Looker's customer support team, she has two projects. The first is her thesis — an ongoing project hosted by DCL meant to provide lessons in storytelling through Looker to develop customer empathy. For Saloni's thesis, she takes AirBnB data and uses Looker to discover the optimal travel options depending on location, season, and price. The second is to revamp a section of the DCL ramp for new hires. "DCL is evolving and scaling rapidly," Saloni explains, "so we have to develop a new onboarding system by expanding on the current one to pass on information without it falling through the cracks."
Saloni initially found Looker through a tour set up by UC Santa Cruz Information Systems Management Association. There she was invited to ask questions to a panel of recent graduates working at Looker who gave her insight into the culture and work available. As fate would have it, she found Looker at a career fair soon after and applied for the internship program. "I didn't think I had the experience necessary… but I wanted to work here."
She remembers being engulfed in the positive energy and excitement of her mentor and manager as they burst through the door at orientation, ready to sweep her away for introductions. From the moment she meets her team, she knows this is where she wants to be.
"The other DCL interns have been amazing. When we get stuck, we ask each other first and are able to help each other find a solution… I've learned so much from them. I've found friends within them and gained a new perspective on life because of the conversations we have had. Truly happy I was able to meet them."
Looker has been an opportunity for Saloni to realize her potential. She was unsure what she wanted to do but Looker gave her the opportunity to explore her options. She explains, "I want to be a powerhouse but sometimes I don't know how to do that. Looker is right there, next to you, while you're figuring it out."
---
Making An Impact
Working as an Intern on the security operations team, Roy Shadmon's project is to build an automated system that would respond to alerts and notify security of unexpected behavior. "We're snapshotting a Kubernetes container and using a malware detection algorithm I designed to alert to potential threats." He explains, "We also developed a pre-approved whitelist that analyzes the changes in the snapshotted container and alerts if some event occurs in the container that is not on the whitelist."
Not only has Roy built this system from scratch, but it is the implementation of a patent idea from his manager that is currently under a patent-pending status. This makes Roy among the first to ever work with this concept.
Having interned at three companies prior to Looker, he recognizes "what makes Looker unique is the culture." Roy discusses his experience through his interactions with his fellow employees. Every day he enters the building, he is warmly welcomed with what he describes as "vibrant happiness." His workday is defined by community and collaboration and a desire to help each other so that everyone can experience success.
Roy is a Ph.D. candidate at UCSC. When he was an undergrad, he wanted to study business but a single class became a pivotal moment in his education — a computer science class where he built a replica of Battle Star Galactica. This is where he fell in love with his trade.
Now Roy finds himself in the position to shape both the company and data security as a whole. "I want my work to impact Looker and keep our systems secure, however, if I build a tool that could help other companies' systems, I'd be more than honored to have that wide of an impact in the security community… To contribute to a more systems secure world is something I pride myself in."
---
Redefining Success
As an engineering intern, Grace Lin's project requires her to go into the backend of the Looker platform to shorten the time it takes for Looker to connect with a client's database. She explains, "Even if it takes a second, those seconds add up."
"Looker is representative of the reason that I'm interested in tech. Coming into college and not really knowing what I wanted to do, I chose computer science because I saw that a lot of real change was being made through technology. I didn't know what I wanted to do but wanted to be able to make some kind of positive impact. I think it's really beautiful and special how Looker enables others to utilize tech."
Handshake, a career network for college students and recent grads, introduces her to the Looker Internship Program. The vetting process is not what she expects. "Applying to technical positions is very impersonal. With Looker, it was the complete opposite. They carry their values from HR and recruiting to the rest of the company."
To Grace, Looker is "perfect in that it combines computer science with data science applications." She looks forward to learning through problem-solving as a software engineer. More than that, she enjoys her team for their desire to help her grow.
Situated between her managers' workspace and the co-founder's office, Grace's desk is a center for collaboration. With the position of her workspace, she gains inspiration from observing this environment, especially the interactions of Looker Co-Founder and Chief Technical Officer, Lloyd Tabb. "I can see how much he loves this company… He's coding every day and talking to people – always helping them be the best they can be."
Grace's intern experience allows her to partake in a truer definition of success — becoming a person who works toward compassionate understanding to further others and, thus, the company as a whole.
###
Tagged Looker