Companies
A Seat at the Table: My Time as a Looker Intern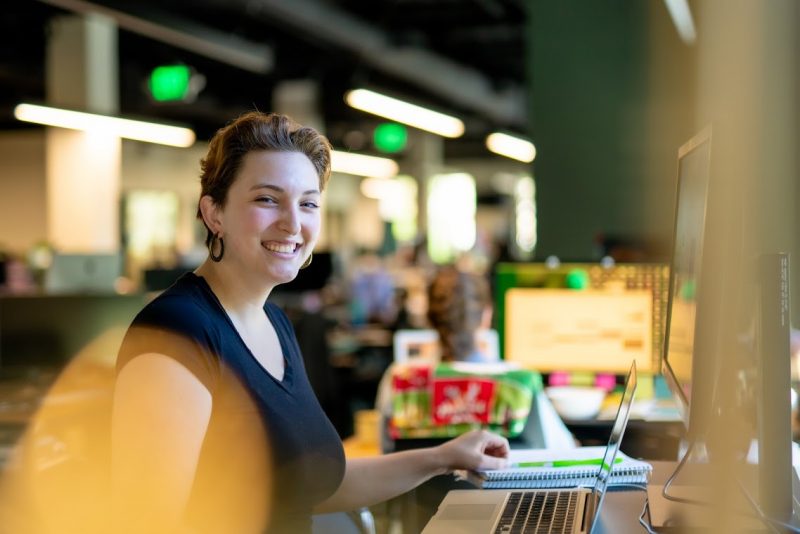 By Kennedy Cartwright
Intern at Looker
July 16, 2019 — Santa Cruz, CA
(Photo above: Kennedy Cartwright is an intern this summer at Looker. Contributed)
Waltzing into Looker on the first day, I feel out of place. This is completely due to my own falsified ideology that everyone who gets an impressive internship has already achieved something spectacular in their field – the kind of impression I have yet to make. Also, I am very overdressed.
I work directly with customer stories — a ten-week deep dive into what Looker does for the overall bottom line of long-established companies and startups alike. I interview people from all levels and departments around the world — everyone from a customer development representative in New York to the PR manager in Dublin to Looker's CMO at headquarters — each day meeting a new side of the company. Each person shows me the same level of respect they would any of their more seasoned peers.
I curate their stories, creating accessible documentation for anyone within the company to use. The specifics are in the data I pull from Looker. My goal is to get thirty of these stories written before I leave at the end of summer but there are far more than thirty out there. As Looker empowers more companies there will be more stories to tell. So, when my internship comes to a close, I hope my project continues to evolve.
Like most good things, I discover this internship through my mom. Research brings forth the previous intern articles published in Santa Cruz Tech Beat and one, My misfit major created a perfect match with my summer internship at Looker (8/16/18), give me the courage to apply.
It happens fast. Three interviews in two weeks and, suddenly, I'm a PR intern.
I study Creative Writing and Theatre Arts at Southern Oregon University in Ashland. Four years of storytelling and fine arts shaping the vision of a life teeming with eclectic artists and performers. Tech is an unexpected turn of events.
At Looker's orientation we are told, "you are allowed to take pride in being here." This is the first time I hear these words spoken outside of a competitive context. Camille, the recruiter who facilitates the program, says it with the wisdom of a woman who lives these words. In that moment, we all take our seats at the kitchen table; we are all welcomed to take part in the curiosity as we settled into the excitement of this opportunity.
I am bewildered by the amount of gratitude I receive for being here. Every person I've met through this program has gone above and beyond, offering me new leads and materials to sift through, giving me opportunities to write and publish, and inviting me into conversations where my voice is valued.
I remember being in elementary school when my mom's office had a bring-your-kid-to-work-day. My sister and I spent the whole afternoon playing with a label maker and running around the assortment of decked-out beige cubicles. I remember thinking, "I can't wait to have my own work-fort one day." Here at Looker, my desk is set by a window and, often in the early afternoon, I watch bubbles breeze through downtown Santa Cruz.
Abbigail N. Rosewood said, "In order to be real, you must affect something outside yourself." I have come to realize my love of theatre and writing stems from my desire to be an integral part of the creative process — a need to become real. I pursue art because it is my way of pursuing this kind of authenticity.
From my small desk by the window, I found it. That feeling of positive impact and the validation of doing good work. I get to swim in the knowledge of what this company does for others, knowing I am part of that impact.
My manager, Katie Camacho, provides the backbone to my success at Looker, making sure I have the resources and feedback to take on unfamiliar territory. She and my mentor, Brian Ziel, enable me to apply data access and storytelling in a practical setting, breathing new meaning into my skill set and redirecting my idea of what is possible.
Not once do I feel disconnected from my peers around the table.
Here I find unwavering authenticity — the kind that makes you rethink what you want to do.
###