Companies
Monterey's NPS deploys satellite aboard SpaceX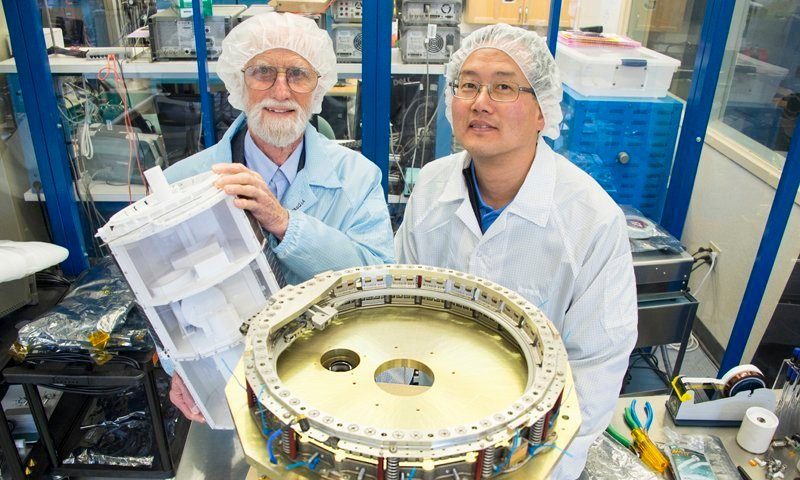 By Dennis Taylor
Monterey Herald
July 16, 2019 — Monterey, CA
(Photo above: Space Systems Academic Group Chair Dr. Rudy Panholzer, left, and Research Associate Dan Sakoda stand near one of several structural pieces to NPSAT1 in the university's clean room in Bullard Hall. The satellite is the product of years of student and faculty research and carried several experiments from both NPS and the Naval Research Laboratory into orbit. Source: NPS)
The Naval Postgraduate School in Monterey has successfully deployed a key research satellite that was on board the most recent SpaceX Falcon Heavy rocket.
The NPSAT-1 satellite is now in orbit at an altitude of  447 miles and is studying the physics of an atmospheric layer that is important to radio communications and navigation. Students and faculty at NPS's Space Systems Academic Group have worked on the 3-foot, 180-pound satellite for years as part of the Department of Defense's Space Test Program mission.
The Space Test Program is the DoD's primary provider of spaceflight for its space science and technology community, a part of the Space and Missile Systems Center of the U.S. Air Force.
Continue reading here: https://www.montereyherald.com/2019/07/08/montereys-nps-deploys-satellite-aboard-spacex/
###
Tagged Naval Postgraduate School