Featured
Sandra Faber is a genealogist of the cosmic kind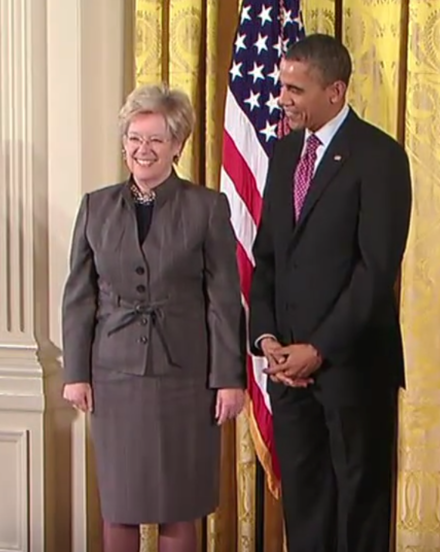 By Jerry Davich
Chicago Tribune
June 11, 2019 — Santa Cruz, CA
(Photo above: Sandra Faber, UCSC Professor of Astronomy and Astrophysics, accepts the National Medal of Science from President Barack Obama in 2013. Source: Wikipedia)
Astronomer searches for our 'cosmic story'
Sandra Faber is a genealogist of the cosmic kind.
"I think all human beings are intrinsically interested in where they came from," Faber told me. "All I'm doing is extending our consciousness to the beginning of everyone's cosmic story."
This cosmic story transcends our petty differences and squabbles here on planet Earth. It traces back more than merely a few generations of ancestors over the course of measly centuries. This kind of celestial story involves the earliest moments of galaxy birth, in quantum fluctuations, eventually leading to the formation of planets, solar systems and, well, us.
"Explaining the origin of galaxies, as a key step on the road to life as we know it, stands as one of the great triumphs of modern astrophysics," said Faber, an observational astronomer who spoke recently in Valparaiso.
Her thought-provoking presentation, "The Milky Way, Schroedinger's Cat, and You," is designed to initiate a conversation about a topic that too many people, including me, feel intimidated to be a part of. (Schroedinger's Cat, named in honor of an Austrian physicist, is a famous hypothetical experiment involving quantum theory.)
Faber, a professor emerita at the University of California, Santa Cruz, is famous among astronomers for speaking publicly in everyday language for common people, not in technical jargon.
Continue reading here: https://www.chicagotribune.com/suburbs/post-tribune/opinion/ct-ptb-davich-sandra-faber-astronomy-cosmic-story-st-0605-story.html
###
Tagged astronomy, Sandra Faber, UC Santa Cruz