Companies
Monterey Bay Aquarium set to open educational wonderland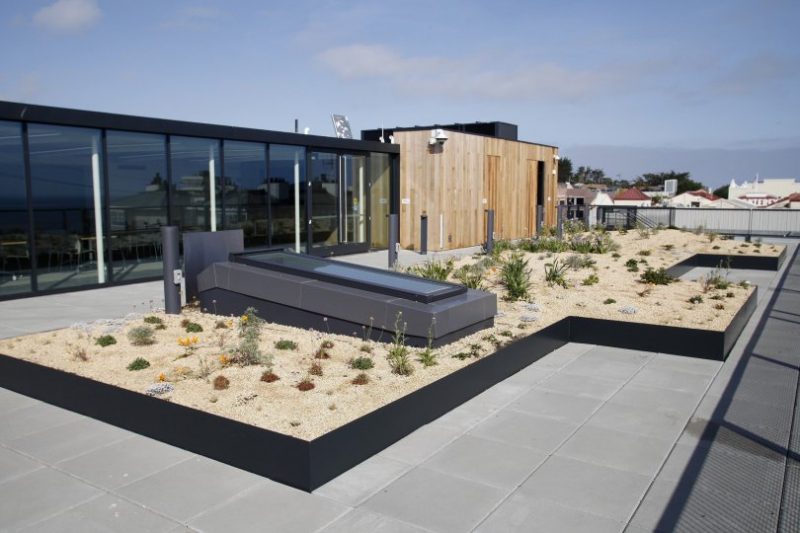 By Dennis L. Taylor
Monterey Herald
May 7, 2019 — Monterey, CA
(Photo above: The roof garden on Monterey Bay Aquarium's new Bechtel Education Center on Cannery Row. Credit: Vern Fisher)
Young students from the Monterey Bay area and beyond will soon have access to a one-of-a-kind learning experience courtesy of the Monterey Bay Aquarium.
The new Bechtel Family Center for Ocean Education and Leadership, on the corner of Hoffman and Cannery Row, is slated to open in early June and represents a major expansion of the aquarium's youth development and education programs, said Rita Bell, vice president of education for the aquarium.
"Education opportunities like this will empower young people," Bell said. "It gives them a powerful voice and the ability to make change in the world."
The size, at 25,000 square feet, will enable far more students in the teen programs to perform hands-on science at the center. Current capacity allows for roughly one-third of the students and teachers that apply for hands-on education opportunities.
"It will take us a couple of years to get to 95% to 100%," Bell said. "We should hit 100% by the 2020-2021 school year."
Continue reading here: https://www.montereyherald.com/2019/05/01/aquarium-set-to-open-educational-wonderland/
###