Companies
Hatching Techies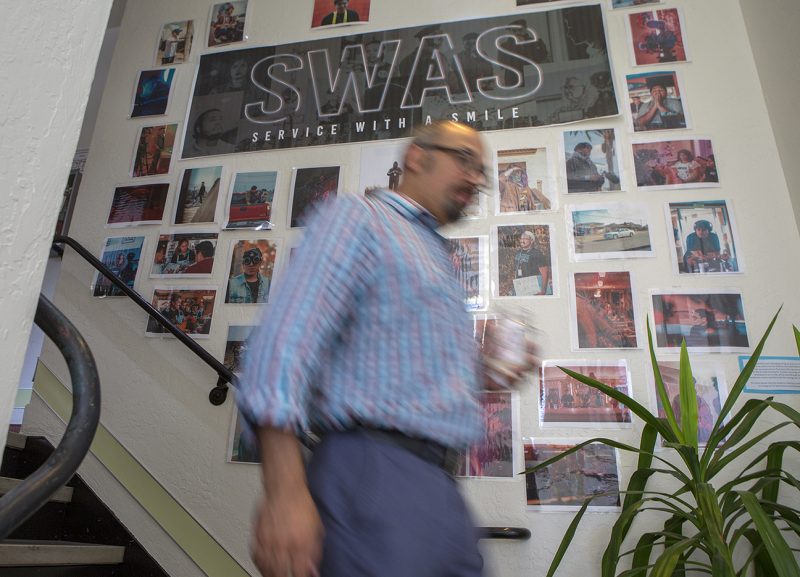 By Kathryn McKenzie
Voices of Monterey Bay
April 23, 2019 — Watsonville, CA
(Photo above: Digital Nest founder Jacob Martinez walks past a wall covered with stills from the movie Service With a Smile. The film was in the Watsonville Film Festival last year. Credit: David Royal)
Digital NEST programs point youth at viable careers
Jacob Martinez remembers vividly how his nonprofit Digital NEST came to be. It was October 2013 and he was strolling through the Friday farmers' market in downtown Watsonville when he noticed a young woman sitting in front of a building, typing on her laptop.
It was a chilly evening and he wondered why she was sitting outside, so Martinez went over to talk to her. She told him that she was taking a class at Cabrillo College, and was sitting outside the college's Watsonville facility so that she could use the free Wi-Fi.
"She had no Internet at home, and didn't have money to go to Starbucks, and the library was closed," recalled Martinez. "And it made me realize, there are all these brilliant young people who can't get access to the Internet."
Martinez, who had already been working for a nonprofit to get underrepresented groups into high tech, thought about it for a while.  Then he came up with an intriguing plan: to create a safe space for youth where they can explore the tech world and all its many possibilities for their future.
Continue reading here: https://voicesofmontereybay.org/2019/04/18/hatching-techies/
###
Tagged Digital Nest, STEM