Companies
Students don science hats for Science & Engineering Fair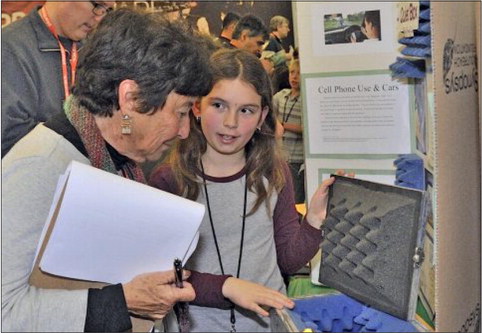 By Jordy Hyman
Santa Cruz Sentinel
March 5, 2019 — Santa Cruz, CA
(Photo above: Brenda Payne, left, a judge from the California Invention Center, talks with Happy Valley Elementary's Avery Schromm about her 'Quiet Box' display at the 31st Annual Santa Cruz County Office of Education Science & Engineering Fair at Plantronics on March 2, 2019. Credit: Lucjan Szewczyk)
Approximately 400 students from kindergarten to 12th grade competed Saturday, March 2, in the 31st annual Science & Engineering Fair organized by the Santa Cruz County Office of Education.
Ten science fair finalists from each participating school in the county set up their tri-fold cardboard displays, complete with illustrations, props and demonstrations, in a space provided by the new sponsor of the event, communications technologyfirm Plantronics.
Nehal Pfeiffer, director of the Science & Engineering Fair for the Santa Cruz County Office of Education, said the fair promotes student research and engagement in science, technology, engineering and mathematics and teaches them how to solve problems using the scientific method.
Cassidy Sissom and Gwyneth Grundner, fourth-graders at Soquel Elementary School, posed the question, "Does age affect memory?"

"We predicted that when you get older, your memory range is lower than when you were a kid, and you only remember the big moments of your life rather than the smaller details," Gwyneth said.
To test their hypothesis, they created their own memory game in which cards with hand-drawn pictures were placed face down, and subjects of the experiment turned over two at a time, trying to find all the pairs.
Continue reading here: http://santacruzsentinel.ca.newsmemory.com/?publink=094676def
###
Tagged Plantronics, Santa Cruz County Science and Engineering Fair