Events
Visionary tech pioneer Jaron Lanier on "How the Internet Failed and How to Recreate It."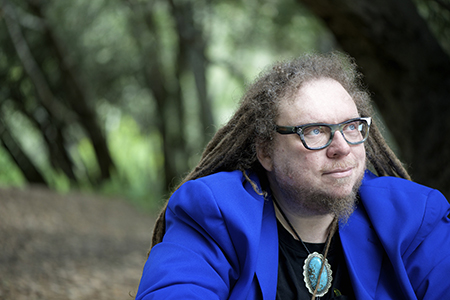 By Scott Rappaport
UC Santa Cruz
October 23, 2018 — Santa Cruz, CA
(Photo above: Jaron Lanier. Credit: Doug Menuez, Stockland Martel)
(NOTE: Registration for this free event is sold out. However, there will be a livestream of the event. Sign up to receive details about the livestream.)
Computer scientist, composer, visual artist, and acclaimed author Jaron Lanier will deliver the 2018 Peggy Downes Baskin Ethics Lecture on Monday, October 29, at the Music Center Recital Hall on the UC Santa Cruz campus.
Lanier will speak on the topic, "How the Internet Failed and How to Recreate It."
A pioneer in virtual reality (a term he coined), Lanier has been on the cutting-edge of technological innovation from its infancy to the present. The founder of VPL Research, the first company to sell VR products, Lanier has led teams creating VR applications for medicine, design, and numerous other fields. Lanier introduced avatars, multiperson virtual world experiences, and prototypes of major VR applications such as surgical simulation.
He is also the author of the international bestsellers You Are Not A Gadget and Who Owns the Future?, as well as Dawn of the New Everything, which was named a 2017 Best Book of the Year by The Wall Street Journal, The Economist, and Vox.
Lanier's latest book is Ten Arguments for Deleting Your Social Media Accounts Right Now, which outlines how the benefits of social media can't possibly offset the devastating losses to our personal freedom, dignity, happiness, and well-being. But Lanier also optimistically envisions a new humanistic type of social networking that can lead to a better way to live and connect to the world.
Continue reading this article here: https://news.ucsc.edu/2018/10/lanier-ethics-lecture.html
###
Tagged UC Santa Cruz