Companies
Q&A: Catelyn Orsini on creating innovative technology for Plantronics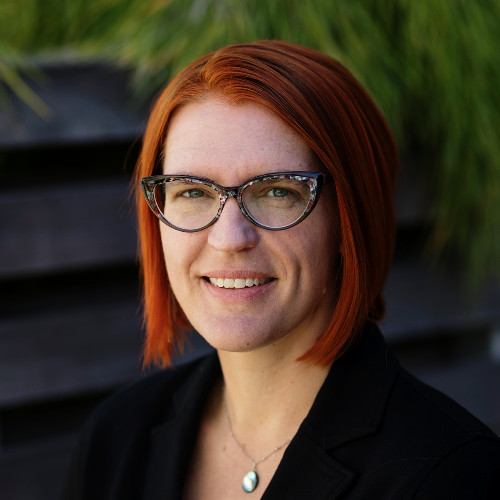 By Sara Isenberg
Founder, Publisher, Editor-in-Chief, Santa Cruz Tech Beat
October 16, 2018 – Santa Cruz, CA
"Finding passion in my work has always been a higher priority than the complexity of the technical problem." — Catelyn Orsini
Catelyn Orsini is a product architect who applies her problem-solving prowess and technical expertise in human-to-human communication to human-to-machine communication. Orsini will be one of the speakers at the Santa Cruz New Tech Meetup on November 7, 2018.
Santa Cruz Tech Beat: You're a Product Architect at Plantronics. What is a Product Architect? What do you do on a day-to-day basis, and what is your favorite part about your role?
Catelyn Orsini (CO): As a Product Architect, I form a strong vision for where Plantronics and workplace communication is headed and I focus on bringing innovative technology to market to further that vision. I keep an eye on new technology through conferences and online information and I work with business development, technical leads and product management teams to bring value to our customers. My job is different from day-to-day and I enjoy working across the org and with external partners to come up with novel approaches to solving customer problems.
SCTB: You've been at Plantronics for two terms adding up to over 7 years. Which products have you worked on during that time? 
CO: During my first tenure as an Acoustic and Audio Engineer, I worked across the portfolio of headsets including wired and wireless products. For example, the Voyager line of Bluetooth headsets all have an incredibly sophisticated industrial design and digital signal processing that require both acoustic design and audio tuning. More recently I have worked on Innovation technology like voice assistances, biometrics and identity as well as and other cloud software services.
SCTB: What are the most fascinating product problems you've solved (or solutions you've come up with) at Plantronics?
CO: I always say that designing hardware would be easy if it was done in a vacuum. The real challenges are the more ethereal things, like "it just works," it sounds great wherever you are and the device is incredibly beautiful and comfortable. These things are hard to quantify and test in a lab. The most fascinating problems I have solved are a surprise (mostly unpleasant) in real life use like echo canceller instability, wind noise and variably of audio perception across a population. Once identified, I have built systems to recreate the situation in the lab and designed test to make sure the issue will be tested in future designs.
SCTB: What's your educational background and what was your engineering focus before joining Plantronics?
CO: I started out with a love for music and strong math and science skills. That led me to a BS in Electrical Engineering from Caltech and a MS in Acoustics from Penn State. Before joining Plantronics, I dabbled in chip design, microphone design as well as vibration testing of Space Shuttle payloads at the NASA Johnson Space Center. At Plantronics, I refocused on consumer audio and telecommunications and I have been expanding my technical expertise ever since. A professor of fluid dynamics at Penn State questioned my studies of acoustics, saying that all the problems in audio were already solved. Finding passion in my work has always been a higher priority than the complexity of the technical problem.
SCTB: You're scheduled to be a speaker at the November 7, 2018 Santa Cruz New Tech Meetup. The focus is Women in Tech. What advice do you have for college-aged women who are entering technical professions?
CO:
Build a network and use it. In fact, I consulted a wonderful Facebook group of women engineers to help me crowd source these recommendations. When I was younger I thought networking was cheating, but now I know that it is everything. If you don't know where to start, get on LinkedIn and find me.
Separate yourself from your work product. If you fail at a task that does not mean that you are a failure. In fact, if you failed, you probably took a risk and that should be celebrated.
Be opinionated. There is an engineering term called "paralysis by analysis" which means that you are overwhelmed with scenarios and cannot decide how to move forward. The important skill is to make a call when the information is not conclusive or cannot be known.
Don't give up. I wish I could say that it is getting easier to be a woman in tech, but I don't know if that is true. But if you are like me, you know that a technical field is what I was meant to do. When things get tough, get out of the building and get perspective. I am lucky enough to have the Pogonip Open Space outside my office door — you might catch me out there working things out.
SCTB: What's your favorite specific headset to wear and why?
CO: I have a Voyager 8200 Series in white that has a beautiful design by my mentor and amazing artist, Darrin Caddes, VP of Corporate Design at Plantronics. It is beautiful on the outside and I am a subject matter expert on nearly everything inside it. It means a lot to me.
###
Tagged Plantronics