Featured
Preventing plastic's perils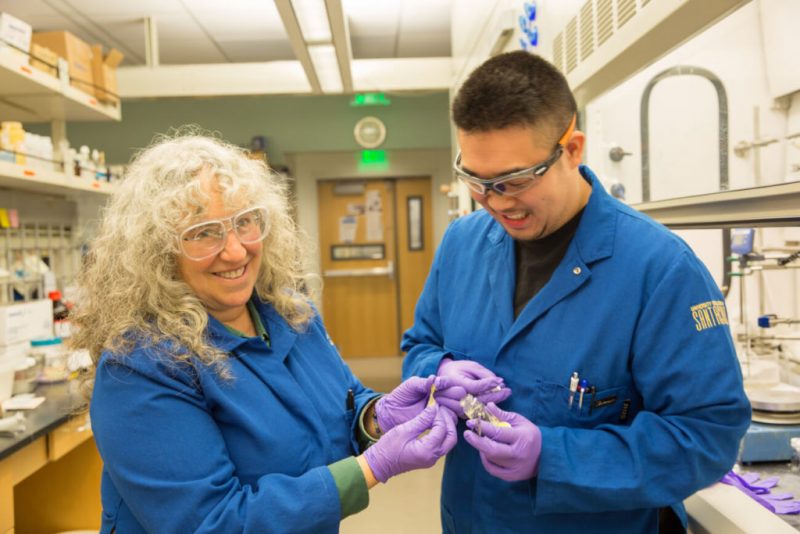 By Teresa l. Carey
UC Santa Cruz
May 15, 2018 — Santa Cruz, CA
Chemistry professor Rebecca Braslau is working to develop an alternative plastic without the problematic molecules phthalates, which can mimic hormones and cause health problems
There is a toxin lurking in every household in America, and one chemist is racing to find a remedy.
Chemistry professor Rebecca Braslau, an organic chemist, has made it her mission to protect people and the environment from the problematic molecules called phthalates, which leach from aging plastic. This chemical can mimic hormones and cause health problems for people, especially children and particularly infant boys.
The daughter of an aerospace engineer father, Braslau was brought up in an upper-class neighborhood in Palos Verdes surrounded by science-minded people, but her personality as a child didn't give any indication that she could hack it as a chemist. As a little girl, she often hid behind her mother's leg. When her parents asked Braslau what color she wanted to paint her room, her answer was "black." Concerned, they wondered if she needed therapy.
To Braslau, black was the majestic color of the stallions in the books she loved. When she was 13, Braslau's parents wanted to do something special for her, so they bought her a young horse. Braslau says the gift brought about an important shift in her life.
Phthalates, which leach from aging plastic, can mimic hormones and cause health problems for people, especially children and particularly infant boys."More than anything else, that is what changed me," she says, a tear forming in the corner of her eye. Braslau went from being nearly bucked off the horse to riding bareback. Her personality changed from painfully shy to the confident person she is today.
"If I were still as shy, I couldn't be a chemist," she says, "I wouldn't be able to collaborate, present my work, or teach classes."
Speaking in chemistry
Braslau describes her mother as a polished woman who wanted the same for her daughter. She persuaded Braslau to get her ears pierced and gave her a pair of braided gold hoops, as well as encouraged her to take care of her appearance. Her mother didn't want Braslau to become too nerdy when she went off to college, so the daughter agreed to take arts classes as well as science.
Braslau was taking her first college organic chemistry class when she became aware an earring was missing. But she noticed something interesting about the loss—she didn't particularly care. And that's when Braslau realized she had changed.
Phthalates are of a similar size and shape as some hormones, and can fool the endocrine-signaling pathways in the body. "I just didn't have time anymore for drying my hair, putting in earrings, or wearing clothes that necessarily matched," Braslau said with a laugh.
Braslau's long, wild hair and comfortable duds testify to her continued love affair with chemistry. Starting in that class, she was bewitched by the riddles she saw in compounds, complex molecules, and reactions. "It's like cartoons. People are drawing arrows and electrons are flying all over, but it made sense to me. They were speaking my language. I could think that way," she says.
Mentor to young scientists
Braslau calls herself a workaholic. She spends long hours in her UC Santa Cruz office writing exams, preparing lesson plans, or catching up on the latest research. Braslau's commitment to mentoring young scientists is evident on the walls of her office. Lining her bookshelves are photos of smiling students proudly holding diplomas, getting married, or working in the lab. Students drop in anytime, and Braslau holds extra study sessions on Saturday for those who need some help.
"I've never seen any other professor care as much as she does," says Chad Higa, a graduate student who has been in Braslau's group since 2013. "If I ever become a professor, I hope I'm like her."
Annette Gardner, Braslau's friend of more than three decades, says this dedication has characterized Braslau for her entire life. "In college, she was always looking after those of us who were scrambling," says Gardner.
Braslau isn't all work and no play. She recently took a scuba diving trip in Cuba. She is a regular attendee of Burning Man, where she makes elaborate full-body puppets out of glowing wire. Pictures in Braslau's office show her wearing a dragon puppet that stretches the entire length of her outstretched arms, from head to tail.
Danger of phthalates
Many years ago Braslau stumbled on a question that confused her. She was working in a lab in Australia, studying marine natural products. As a chemist, Braslau was used to mixing things together to cause a chemical reaction, which forms new molecules. She then isolates the newly formed molecules to identify what they are.
Continue reading article here: https://magazine.ucsc.edu/2018/03/preventing-plastics-perils/
###
Tagged UC Santa Cruz