Featured
David Haussler to participate in ambitious project to sequence earth's life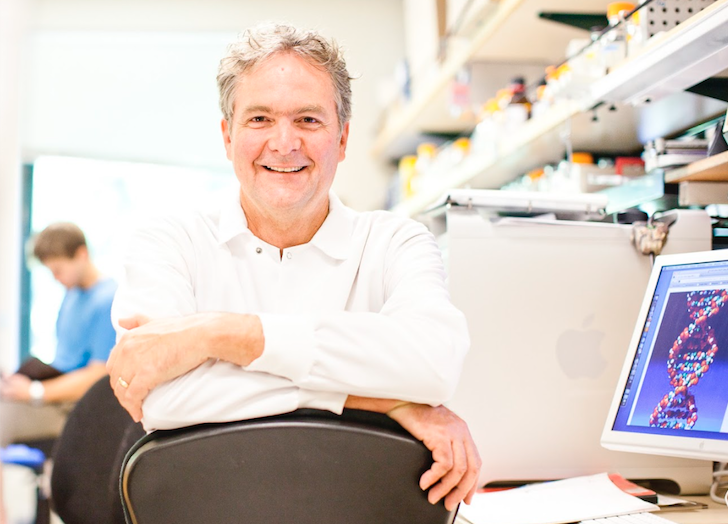 By Alexis Morgan
Communications Manager, UCSC Genomics Institute
April 24, 2018 — Santa Cruz, CA
Earth BioGenome Project Aims to Sequence DNA from All Complex Life on Earth
The UC Santa Cruz Genomics Institute's Scientific Director and Biomolecular Engineering Professor David Haussler has joined forces with an international consortium of scientists, proposing the largest genome sequencing project to date: sequencing the DNA of each known complex life form on Earth.
The central goal of the Earth BioGenome Project (EBP) is to understand the evolution and organization of life on our planet by sequencing, cataloging and mapping the genomes of 1.5 million complex living things including all known plants, animals and fungi. To date, the genomes of fewer than 0.2 percent of such species have been sequenced.
The project also seeks to identify some of the estimated 10 to 15 million unknown species of single-cell organisms, insects and small animals, on land and in the oceans.
The group insists that genomic data resulting from this project be a freely available resource for scientific discovery, and that resulting benefits be shared with countries and indigenous communities where the organisms are found. Researchers estimate the project would take 10 years and cost roughly $4.7 billion.
In a paper published April 23 in the Proceedings of the National Academy of Sciences (PNAS), the international experts behind the Earth BioGenome Project provide a compelling case for why such a project should go forward. They also outline a roadmap for how it can be achieved.
The paper's authors point to the extremely successful Human Genome Project: Launched in 1990 and completed in 2003, the United States and other countries invested approximately $3 billion to sequence the entire human genome. The resulting "genomic revolution" has had an enormous impact not only on human medicine but also on veterinary medicine, agricultural bioscience, biotechnology, environmental science, renewable energy, forensics and industrial biotechnology. A 2013 report by the Battelle Memorial Institute estimated the financial benefit of the Human Genome Project to the US economy to be nearly $1 trillion.
Harris A. Lewin, distinguished professor of evolution and ecology at UC Davis, chairs the working group and is the lead author of the paper. Lewin sees the Earth BioGenome Project as providing even greater opportunities for generating scientific and societal benefits.
"The EBP will lay the scientific foundation for a new bio-economy that has the potential to bring innovative solutions to health, environmental, economic and social problems to people across the globe, especially in under-developed countries that have significant biodiversity assets," Lewin said.  Dr. Haussler headed the UC Santa Cruz team of the Human Genome Project that was first to assemble the DNA pieces and post the human genome on the internet in 2000. He notes that the Human Genome Project was inspiring to scientists for its ambition and its dramatic conclusion, in which humans' "source code" was made freely available to all researchers across the globe. Following that, researchers everywhere have sequenced  a range of organisms — mostly those already known to have biomedical, agricultural and industrial importance.
"The success of the Human Genome Project inspired Earth BioGenome organizers to propose an even more ambitious project — one that would sequence DNA from all complex life on Earth," Haussler said. "Success in this initiative would carry enormous benefits, so much so that it would be irresponsible not to undertake it given our extraordinary new capacity to sequence DNA," he said. "We are now the stewards of life on Earth. To be responsible stewards of life, we must start by understanding it."
The Earth BioGenome Working Group authors are:
Harris A. Lewin (University of California, Davis)
Gene E. Robinson (University of Illinois at Urbana-Champaign)
W. John Kress (National Museum of Natural History)
William J. Baker (Royal Botanic Gardens, Kew)
Jonathan A. Coddington (National Museum of Natural History)
Keith A Crandall (George Washington University)
Richard Durbin (University of Cambridge)
Scott V. Edwards (Harvard University)
Félix Forest (Royal Botanic Gardens, Kew)
Thomas Gilbert (Natural History Museum of Denmark, University of Copenhagen)
Melissa M Goldstein (George Washington University)
Igor V. Grigoriev (US DOE Joint Genome Institute)
Kevin J Hackett (ARS-USDA)
David Haussler (University of California, Santa Cruz)
Erich D Jarvis (Duke University Medical Center)
Warren E Johnson (Smithsonian Conservation Biology Institute)
Ari Patrinos (Novim Group)
Stephen Richards (Baylor College of Medicine)
Juan Carlos Castilla Rubio (Space Time Ventures)
Marie-Anne van Sluys (University of Sao Paulo)
Pamela S Soltis (University of Florida)
Xun Xu (BGI-Shenzhen)
Huanming Yang (BGI, China)
Guojie Zhang (China National Genebank, BGI-Shenzen)
###
Originally published here: https://ucscgenomics.soe.ucsc.edu/uc-santa-cruz-genomics-institute-head-joins-ambitious-project-to-sequence-earths-life/
###