Featured
Lick Observatory expands evening programs for the public this summer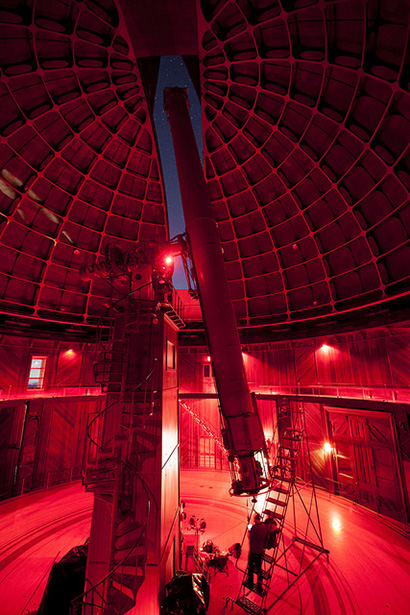 By Ilse Ungeheuer
Communications Manager, UC Observatories
April 19, 2018 — Santa Cruz, CA
Tickets for the popular concert and lecture series and the new evening tours on Mount Hamilton are now on sale
(Photo above: Visitors view through the the 36-inch Great Refractor Telescope at Lick Observatory. Credit: Scott Lange/Nick Foster/Lick Observatory)
In response to growing public demand, Lick Observatory has increased the number of evening events for visitors in 2018, adding 20 public evening tours to enable more visitors to enjoy the observatory after dark.
The four- to six-hour expert-guided walking tours were introduced in 2017 and resonated very well with participants. Lick Observatory's annual summer visitors program also features live music, evening lectures by world-renowned astronomers, and opportunities for the public to view celestial objects through two historic telescopes: the 36-inch Great Refractor and the Anna L. Nickel 40-inch Reflector.
Tickets to the Annual Summer Series and the walking tours tend to sell extremely quickly and will be available online at www.ucsctickets.com, starting promptly at noon on Wednesday, April 18.
The musical line-up in 2018 includes Black Cedar, performing classical music with flute, cello, and guitar; the White Album Ensemble, a popular Beatles cover band and local favorite, covering Beatles music that was never performed live; Melody of China from the Bay Area, performing soothing nature music with traditional Chinese instruments; the trio Brocelïande, bringing Celtic music from the British Isles and Medieval and Renaissance music of the European courts and countryside to the mountain; Ancient Future, a world fusion music group featuring Arabic and Latin tunes; and the Stanford-based jazz trio Charged Particles, blending jazz with elements of Latin music, funk, classical, and other genres. The science speakers are experts in their fields and will provide fascinating insights into the universe as we know it and the current state of research in their respective fields of study.
Continue reading article here: https://news.ucsc.edu/2018/04/lick-summer-programs.html
###
Tagged Lick Observatory, UC Santa Cruz