Companies
April's SCNTM: SellHound, Merge4, MakerDao, SupplyShift, Rivetz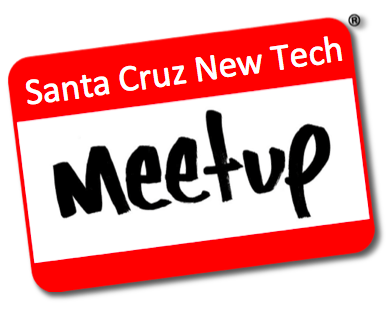 (Contributed)
March 28, 2018 — Santa Cruz, CA
Santa Cruz New Tech Meetup
Wednesday, April 4, 2018,
Doors open at 6pm, presentations start at 7pm

Dream Inn, 175 West Cliff Drive, Santa Cruz, CA

Early Bird Entry fee is $10. $15 at the door. $5 for students with valid ID (pay at the door).
Register here.
Here's the lineup:
Community Presentation: Mayor David Terrazas – in a city of 68,000, the intersection of politics and policy happens neighborhood block by block. How does the housing shortage impact tech workers? What is the City doing? Meet Santa Cruz City Mayor and Attorney David Terrazas to learn about recent city policies, and how to help participate in future actions.
SellHound / Suzanne Wouk: out of stealth, and into the SCNT MeetUp! SellHound is the first ever comparison selling site for used goods! Sell more stuff, more easily, and for more money.
Merge4 / Cindi Busenhart: a Santa Cruz entrepreneur has created the ultimate sock! Your feet will benefit from this amazing tech feat!
MakerDAO / Jessica Salomon: while you were sleeping, this company relocated from San Diego to Santa Cruz. Learn why and all about DAO: a crypto-currency stabilized with the US dollar.
SupplyShift / Alexander Gershenson: learn how a local company has revolutionized information gathering about your suppliers; and is tackling deforestation.
Rivetz / Sean Gilligan: worried about security in blockchain? This company has several solutions to calm your fears.
Learn about hot new technologies and mingle with 300+ fellow entrepreneurs, investors, bloggers, and tech enthusiasts. This event is always packed, so be sure to RSVP early. Doors open at 6:00pm, presentations start at 7:00pm. Early Bird Entry fee is $10; or $15 at the door. $5 for students with valid ID (pay at the door).
###
Tagged Santa Cruz New Tech Meetup