Companies
Q&A: Justin Laing on the "double win" for this prolific startup junkie and his team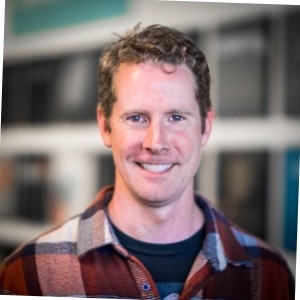 By Sara Isenberg
Founder, Publisher, Editor-in-Chief, Santa Cruz Tech Beat
March 13, 2018 — Santa Cruz, CA
(Photo above: Justin Laing. Contributed)
Justin Laing talks about before, after, and the selling of Crank Logic
Crank Logic founder Justin Laing was already a familiar name in the local startup scene when Santa Cruz Tech Beat published Crank Logic Cranks Up in July 2016.
In this Q&A, Laing shares some of the details about the sale of Crank Logic. He also talks about what he did before that, and where he and his team have landed. Calling it a "double win," this guy is one of the more prolific startup junkies in Santa Cruz.
SCTB: You recently sold your Santa Cruz-based startup, Crank Logic. What's the story?
JL: Crank Logic was founded by myself and Matt Berlin in 2016. Crank Logic's mission was to empower small retailer owners to understand their business and improve it through data. We developed analytical models to help retailers optimize their inventory, employee performance, and marketing. We used Looker as a platform to power our model, visualize and explore the data for our users.
We ended up white labeling our product to a large point of sale software company. It was a great partnership and enabled Crank Logic to have a straight forward path to success.
My previous business partner, Ivan Stanojevic, and I primarily provided the angel funding for the company. We had a small investment from Angels By The Sea, as well.
In November, an amazing opportunity came our direction to join Looker. My team and I were really excited about the prospects of joining Looker, as we were already using their product and were huge fans of the technology and the company.
We sold Crank Logic to our point of sale partner and moved the entire team over to Looker at the same time.
We're helping to transition the Crank Logic product over to the partner company while working at Looker.
For myself and the team, it was a double win: successful exit of the startup, and dream job at Looker.
SCTB: Is selling Crank Logic what you had in mind from the start or did this evolve?
JL: Our initial vision was to create a large independant company that focused on retail analytics. We planned to roll out integrations wtih multiple point of sale and ecommerce platforms.
The opportunity to partner with a large established point of sale software provider was too good to pass up, but with it came restrictions on how far we could take the company in the end.
SCTB: You've founded other startups. What did you do before founding Crank Logic?
JL: I co-founded a company called MerchantOS which was sold to Lightspeed Point of Sale in 2013. I spent 10 years building that company up from nothing with no funding and no experience building a business. It was very hard and very rewarding. The retail software that I created at MerchantOS is the core retail product sold by Lightspeed Point of Sale and is now used by tens of thousands of retailers all over the world.
I was lucky enough to have a couple of the people who worked for me at MerchantOS and Lightspeed join me at Crank Logic, and continue to work with me now at Looker. This includes my Crank Logic co-founder Matt Berlin (an amazing "can-get-anything-done" programmer). I've been very fortunate to get to work with these awesome people.
SCTB: How many people were on your CL team? How many in Santa Cruz?
JL: We had about 8 people on the team at the peak, but for most of the time there were about 5 of us. Three to four of us were in Santa Cruz.
SCTB: Then what? Your whole team moved en masse to Looker?

JL: We joined Looker as an intact team. We're building data apps at Looker. It's a natural progression to what we built at Crank Logic. It's really awesome to hit the ground running with a full team and continue the same type of work we were doing before.
SCTB: What's your role now at Looker?
JL: Director of Engineering for our data apps team. Looker is amazing. I'm a total believer in the company and the product. I'm excited about the future for myself and my team. Come join Looker, it's an amazing rocket ship!
###
If you wish to republish this article, please follow our Terms of Use.
###
Tagged Crank Logic
Related Posts