Companies
Q&A: Jim Brock on his new startup, ezNDA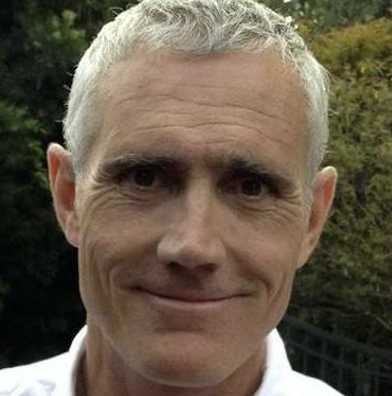 By Sara Isenberg
Founder, Publisher, Editor-in-Chief, Santa Cruz Tech Beat
February 27, 2018 — Santa Cruz, CA
You can think of it as "Non-Disclosure as a Service."
Last week, Jim Brock announced ezNDA in The future of NDAs involves bots.
This week, we have the opportunity for a direct conversation with Brock. Let's get a better sense of his new startup.
SCTB: You recently released something new called ezNDA. Who is ezNDA for and what problem does it solve?
JB: We're taking the pain out of Non-Disclosure Agreements. The first step, which is live in beta now at eznda.com, makes NDAs really easy. You just send the other party to your online NDA — like mine is eznda.com/jim — or just add cc@eznda.com to a meeting invitation. Our bot gets it signed by the outside participants, and shows you in your calendar that it's done. Plus whenever anyone on the team sets up a new external meeting, they'll see right in their calendar if they need to get an NDA signed.
SCTB: What is it? (app, software platform, downloadable software?)
JB: We're developing ezNDA as a fully responsive web app, which works in a browser on any device and doesn't require an app install. But actually, once you set up ezNDA, you manage your NDAs from your calendar, which we can supplement using APIs. By the time we're done, ezNDA will take care of NDAs across the enterprise through whatever calendaring or messaging apps you might use, from Slack to Outlook 365. You can think of it as "Non-Disclosure as a Service."
SCTB: ezNDA is in beta right now. When do you plan to ship final product? Are you looking for any feedback from beta users?
JB: We live for feedback, and would love to see everyone to give ezNDA a try. During this first phase, new beta users will get a guaranteed 12-months free for unlimited use. And right now whenever you complete an NDA through our service, the other party you sign it with gets a $5 Amazon credit. Contact me at jim@eznda.com to sign up.
SCTB: What's your revenue model?

JB: Part of this phase is about figuring out how we extract value for the time we save people. I like the idea of charging per-NDA, like a few dollars each time you complete one. I think people are rightly becoming accustomed to pay-as-you-go models, rather than big subscriptions.
We're hoping that our service is naturally viral, given that every NDA that you do exposes ezNDA to another potential user (and team). It may make sense to keep the service free or near free for quite a while to grab as many teams as we can. It may make sense to always keep it free for individual users.
SCTB: What's your goal (or hope) for ezNDA?
JB: For us, all value flows from how much time and trouble we can save people on their NDAs. The better we do that, the more people will use the product and the more value we will create for everyone, including ourselves. Whether that ends up as a revenue machine, acquisition, or total failure, we shall see.
SCTB: You're a Santa Cruz-based serial entrepreneur. What have you been up to since your startup PrivacyChoice was sold to AVG Technologies in 2013? Bring us up to date.
I spent a year or so building privacy products at AVG, then left to start a company in marketing and business intelligence (MarketSpace), which we sold a few years ago to provide the platform for Tickr.
SCTB: Who else is on your ezNDA team? Where are they based?
JB: I'm working on this with some terrific developers, including our lead developer who is here in Santa Cruz, Albert De Guzman.
SCTB: Thanks! Let us know when ezNDA is released to the public.
###
If you wish to republish this article, please follow our Terms of Use.
###