Events
Otters in the "Shark Tank"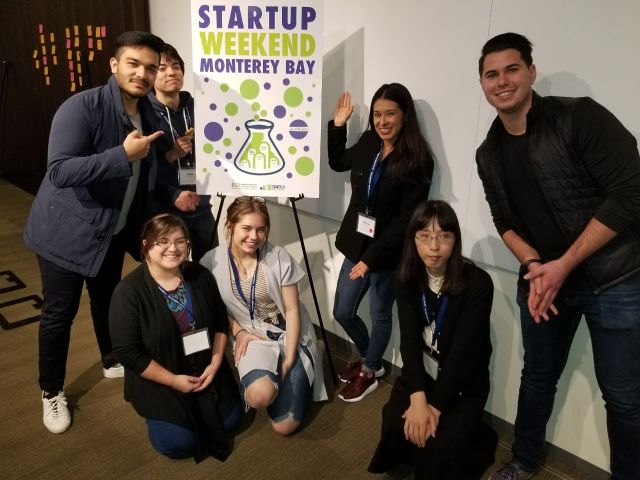 By Ray Kaiser
The Lutrinae, CSUMB
February 6, 2018 — Seaside, CA
(Photo above: Students participate in the sixth annual Startup Weekend for the Monterey Bay area. Contributed.)
This past Friday through Sunday, Cal State University, Monterey Bay hosted the sixth annual Startup Weekend for the Monterey Bay area. Taking place every January, the event gives young entrepreneurs the chance to learn in an environment that encourages "startup magic," working together to create startups in one chaotic weekend. Their goal is to help teach through doing, foregoing long panels and textbooks in favor of workshops and collaboration. This is to encourage entrepreneurs to learn through experience, and not just through hypothetical situations.
The main event of the weekend is the startup challenge, where teams compete by delivering short presentations to practice pitching their company to investors or in other professional situations. This "Shark Tank"-style environment doesn't just offer experience for entrepreneurs, but also gives them a chance to win money in both cash prizes and legal or other business services. The teams are split up into three categories: Venture, for startups aiming high and hoping to grow into proper enterprises; Main Street, for small businesses; and Student, for young entrepreneurs somewhere in between highschool and graduate school.
Landing in first place this year was the proposed service Swoop, which aims to connect homeowners with people seeking parking for venues. Taking second was Line Jumper, a service that would rock the queue-economy by allowing people to buy, sell, and auction their place in line. Coming in third, but winning the ultimate favor of the crowd, was Furever. Furever would set out to connect homeless pets with willing and able owners, a good idea with a lovely sentiment, leaving no surprise as to why it won crowd favorite.
Originally published here: https://thelutrinae.com/2018/02/otters-in-the-shark-tank/
###
Tagged CSUMB