Events
CSUMB "Game Jam" Introduces Virtual Reality to First Generation Students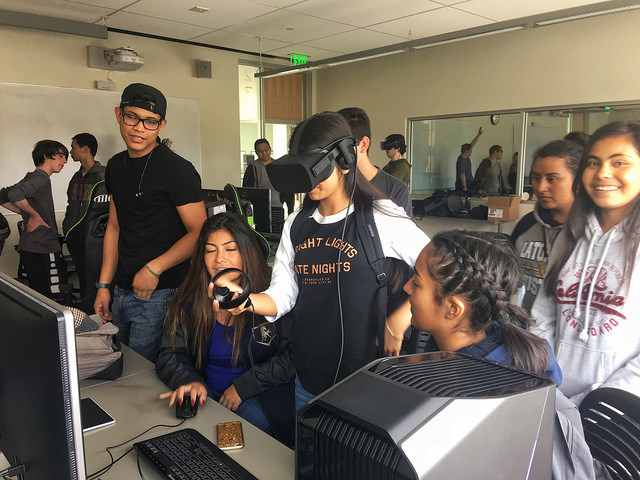 (Contributed)
June 15, 2016 — Seaside, CA
(Photo above: Students participate in CSUMB's "Game Jam" this week. Contributed.)
CSUMB's first-ever "Game Jam" event is exposing local students from Gavilan, Hartnell and Monterey Peninsula community colleges to virtual reality (VR) technologies at CSUMB's VR lab June 12-16, 2017. "Game Jam," funded by the Title V grant, gives students the opportunity to spend a week developing a game or application using VR technology, culminating with an awards presentation Friday, June 16 at 1 p.m.
In addition to local community college students, 25 first generation high-school students from the Central Valley Upward Bound program visited CSUMB to explore the Game Jam event and virtual reality lab Monday, June 12.
"This technology is the future – and underserved populations need to be exposed," said Bude Su, professor and chair of the School of Computing and Design. "The first step toward change is awareness, and underserved populations need early exposure to these emerging technologies to utilize them later."
Awards will be presented for the best project on Friday, June 16, 2017 at 1 p.m. in room 235 of the Joel and Dena Gambord Business and Information Technology Building at CSUMB.
###
Tagged CSUMB